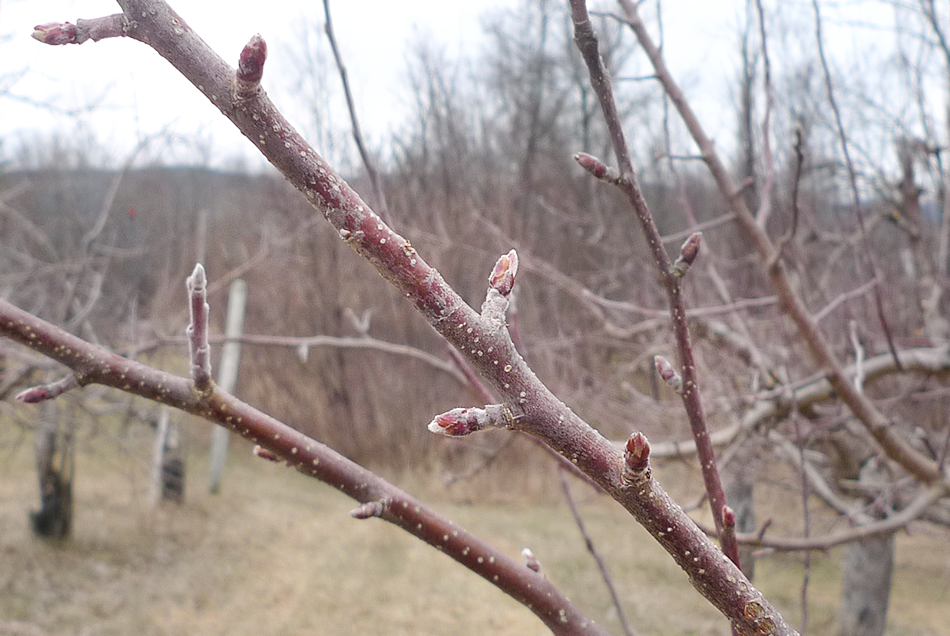 Buds Boring: Rah!
Boring news is good news! Nobody needs more suspense these days. So here's a boring update on our apple buds. The March weather stayed pretty cool! Our early-bird variety, Wickson, is just showing some silver tip. (You may recall that premature warm weather brings on premature bud-break, which often leads to internal freezing during a cold snap and - pop goes the future apple crop.)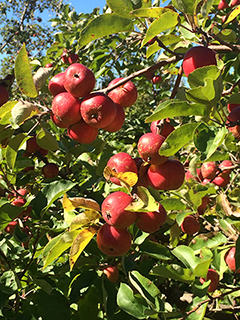 FYI Wickson is a fairly modern cider apple, developed in California for fermenting, in the early 20th Century. But then came Prohibition, so Wickson's cider career was delayed till the
late
20th Century. Up here we first planted Wickson back in the 80's for eating, because unlike many of its fellow squeezer varieties, a Wickson apples tastes fabulous! All two bites of it. Now we grow lots of Wickson, and other orchard cidermakers have planted lots more.
Of course, with over a month to go till the ideal bloom-time, we must
not
start imagining a nice Wickson crop...
Better to think about ways we can help out locally during the present massive upheaval.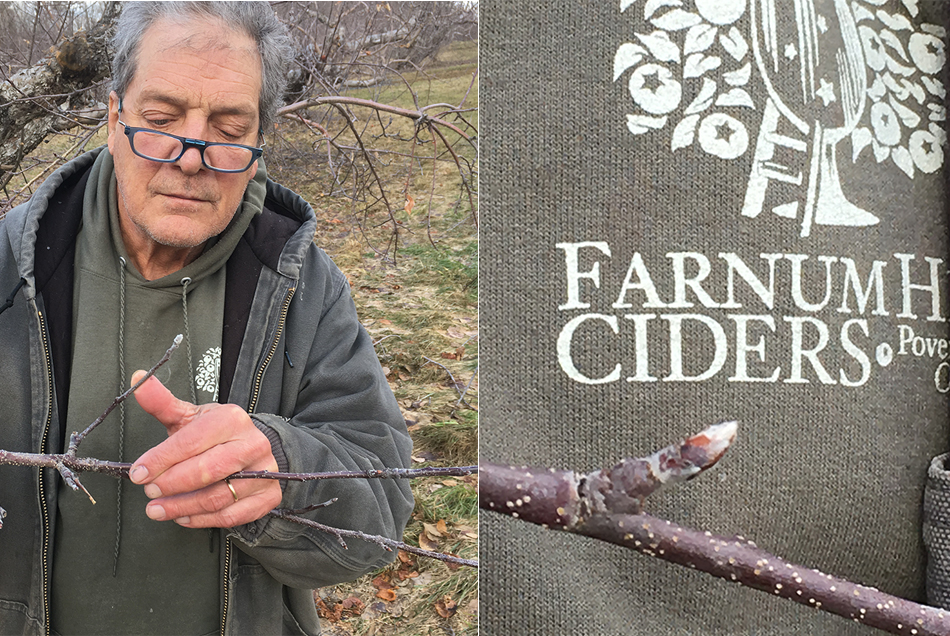 Spring Bud Drama
Orchard drama is quiet but real. This time of year, it's about the buds, which contain this year's apples. Thus far they're still in winter dormancy, wrapped up tight in their smooth brown "scales." But -- it's been kind of warm up here! Which means the buds could start getting a premature message: that it's time to open. Which would be bad. Because warm days in March can be followed by sub-freezing days later in March, or in April.

If the buds open too soon, they expose tiny flower and leaf parts, which can freeze. If those tiny innards freeze in Spring - no apples in Fall! It's that simple. Every single apple has to grow from a blossom that's been pollinated in bloom - so ... you get the drama part.
That's why Steve's out looking at buds, checking that they're still dormant. The earlier varieties, such as Wickson, break dormancy first. So far, nothing's visibly happening, but we're so hoping for a steady coolish runup, right through April, to May flowering - the kind of old-school Spring weather that used to be normal. It's less normal now...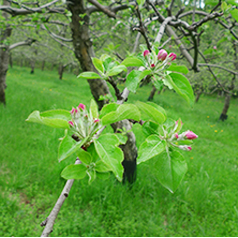 Therefore the close-up view of the closed-up bud looks good to us! It's not growing new white fuzz, or swelling, or acting in any way ambitious. The five potential apple blossoms packed inside are still safe. More later!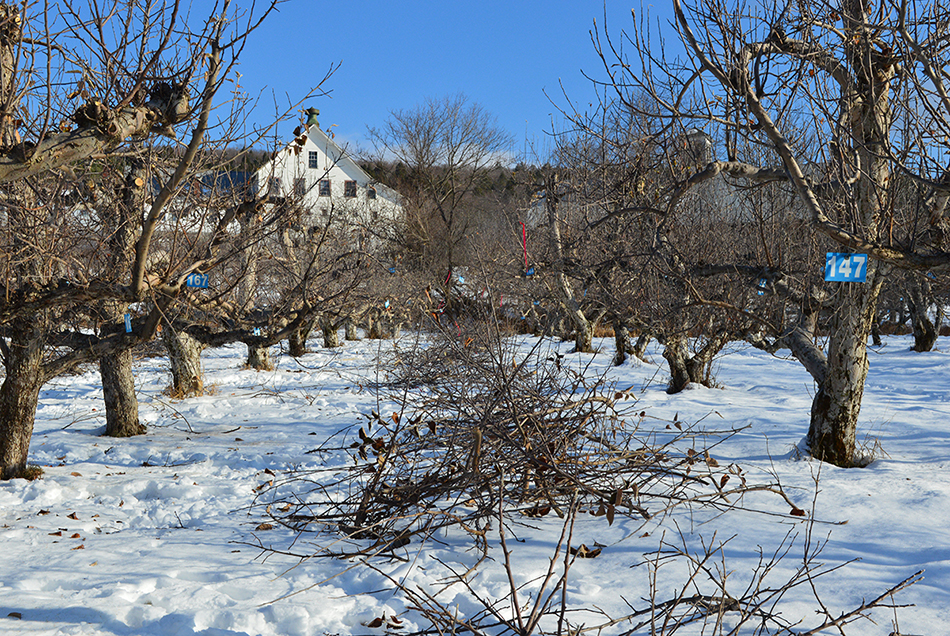 Distancing and communicating on St. Patrick's Day
St. Patrick himself
was a tougher, braver human being than most of us will ever need to be, fifteen hundred years before we learned about viruses or green beer. On a strange, scary St. Patrick's Day we'd like to send our best wishes to all of us straining to "distance" ourselves while keeping in touch. The big photo shows pruning cuttings in an orchard aisle, with the un-pruned rows waiting to the right. Those aisles will fill with cuttings soon.
NOTICE: ALL GROWLER DAYS ARE SUSPENDED TILL FURTHER NOTICE - click on the event frame for more info.
We're all doing what we can without knowing what's next! Trying for good health, hoping for good luck!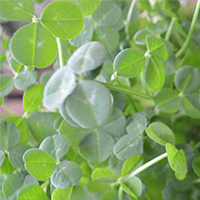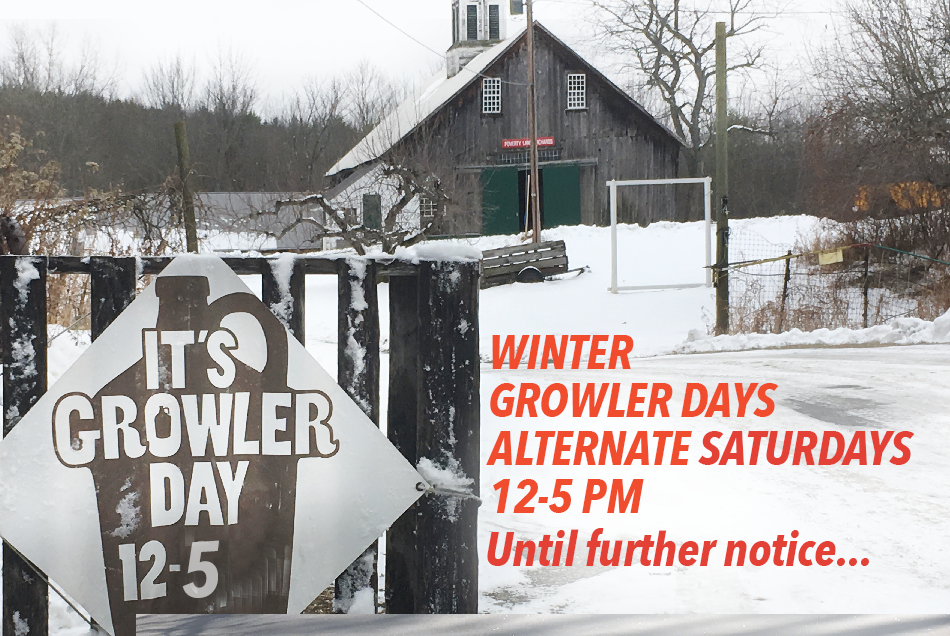 Growler Days Are Changing
Hello neighbors, Growler Days are changing, to alternate Saturdays, 12-5pm! No more Thursdays until further notice. This we hope will allow more of you to get your local orchard cider on the day you're already doing errands... Everything else is the same, the notifications, the route into the cider room, the hours - all normal. Just the day of the week is different and, we hope, easier for you. Please head for the Contact Page if you'd like email reminders before each Growler Day, or just check our FB. More background on growlers here.

Happy late winter! (We're actually in no hurry for Spring, we have so much pruning left to do. More on that later.)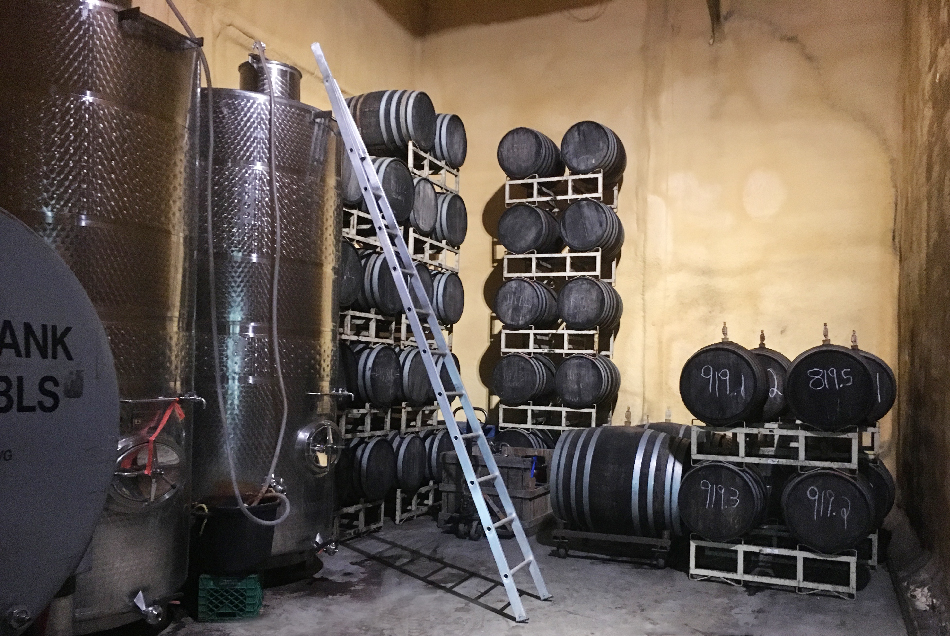 Farnum Fermentations Finishing
Well, the weather outside is frightful! Inside, our 2019 fermentations are quieting down. For a few weeks there, the cider room was filled with loud bubbling noises of busy fermentation. (We're trying to figure out how to post a bit of audio but for now you'll have to take our word for it!) Anyway here are a few of our nicer-looking tanks and a bunch of barrels, all sending out the occasional bubble, showing the last stages of fermentation are still happening. At Farnum Hill we ferment our stellar cider juices just once. We think that's the best way to make dry ciders that express the delightful character of the particular apples we grow here.
So if we ever get any malolactic ferment, or secondary ferment, or (ack!) acetic ferment, those are blunders here on Farnum Hill. Other excellent cider-makers intentionally take their juices through one or more further fermentations, but here we love the fresh, fruity, bracing, bright, complex flavors that arise from one (slow, cool) fermentation per batch. So that's what's happening right now... More later!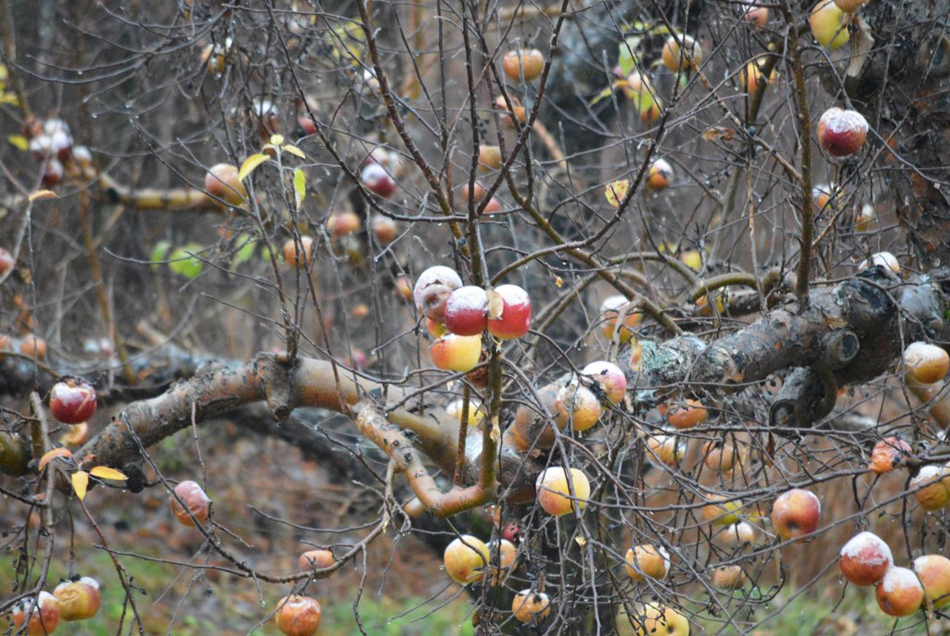 Apples Are In, Pressing Goes On
We'll have newsier news soon. The apples are in, the cider-pressing goes on, we'll get some details up in this space ASAP, in case you'd like to read more about the harvest. Thanks for stopping by!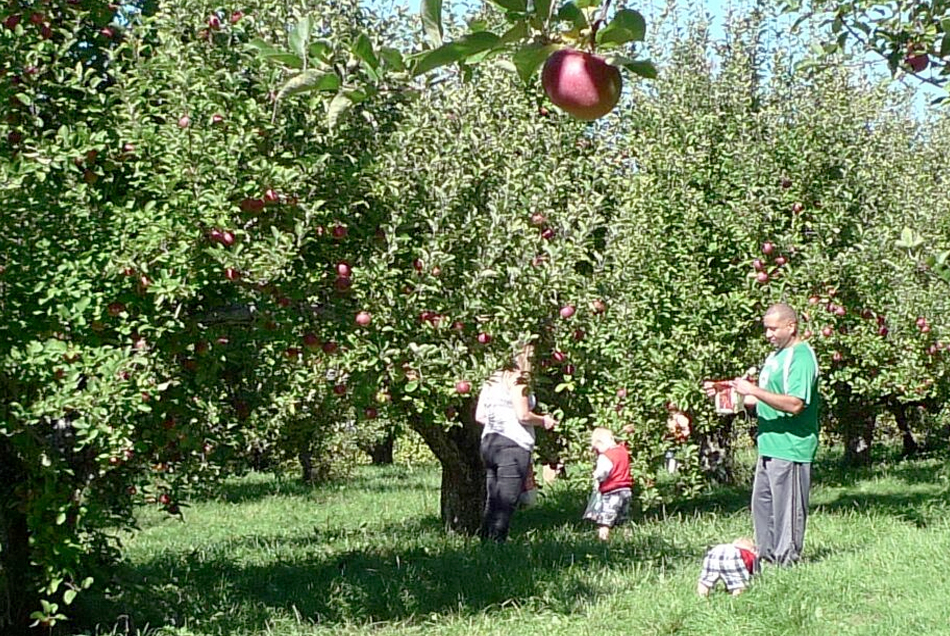 It's Harvest Time!
We're now well into our harvest retail season. Still loads of snappy Macs & Cortlands on the trees, not to mention spectacular Macouns. Also - while they last - you can pick Ribston Pippin, Wickson and Calville Blanc d'hiver in the top rows of our Big Stearns orchard. For those you must use your own judgment: taste one and decide whether to pick more!

Not picking? Check the retail stand for bagged Macs, Corts. Macouns, Gala, Jonogold, Elstar, two kinds of pears and more. ALWAYS CALL 603/448-1511 for the latest varieties in from the field. No way we can keep this website current with the day-to-day real-life harvest

Every week is different during the harvest! Come see what's coming in: 9-6 weekdays, 10-5 weekends and holidays.
As the fall goes on, more and more delicious pick-your-own and ready-picked fruit comes on! Read more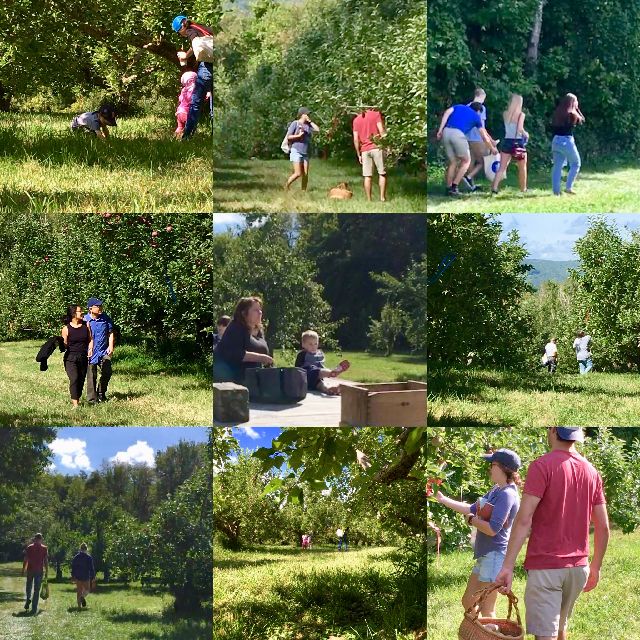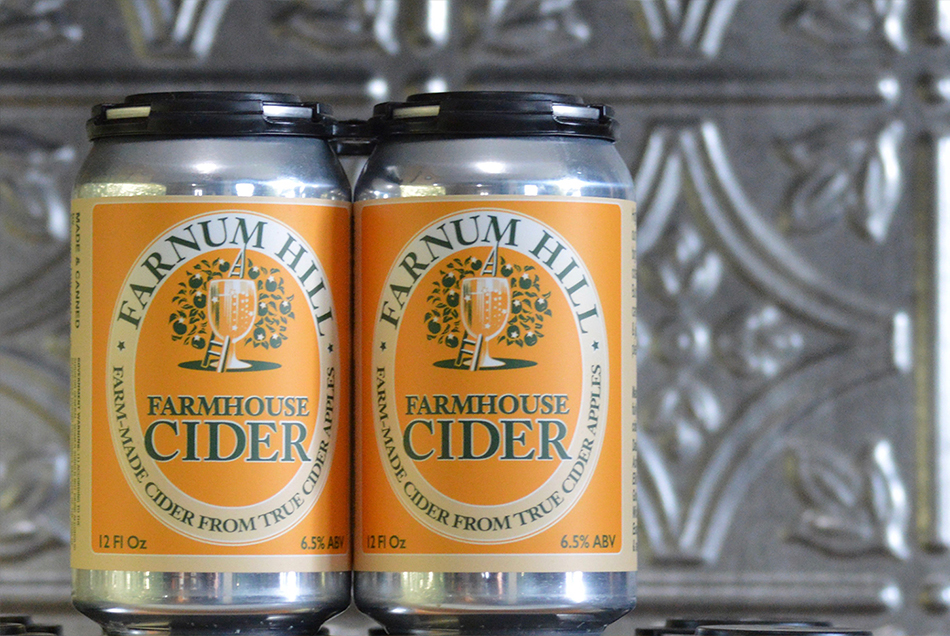 Coming! More Farmhouse Canning
Farnum Hill's second run of Farmhouse 12-oz four-packs is nearly gone! The next run is scheduled!
Our first canning venture in 2018 went so well that in Summer 2019 we canned three times as much Farmhouse. That batch of canned Farmhouse has flowed out through New Hampshire, Massachusetts, Maine, New York, and Chicago. So our courage is up, can-wise, for Round 3.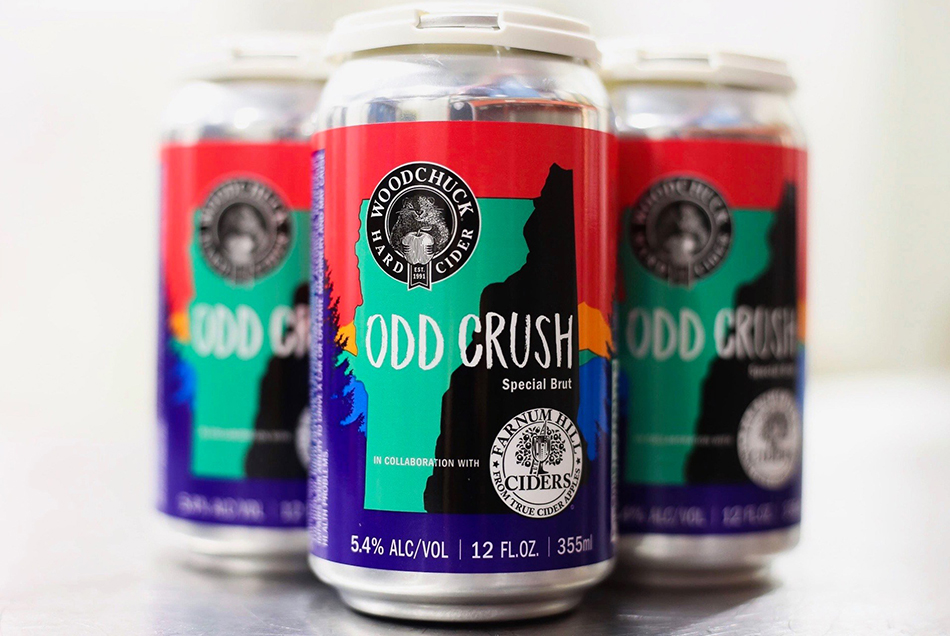 "Odd Crush" - Seen Any Near You?
Update on Odd Crush – So the special collaboration released just a few months ago went out pretty well. We're trying to find out where it might still be available, so far no luck. In case you run across Odd Crush, here's the description: http://www.woodchuck.com/cider/odd-crush/ ! And let us know where you spotted it!
Back in the 1990's Farnum Hill began making and promoting small-scale hand-made orchard ciders in local markets while Woodchuck was making novel, variously flavored "six-pack" ciders, sold nationwide. From New Hampshire and Vermont, this odd duo showed the way toward today's wildly diverse, country-wide American cider industry! Now, twenty-odd years on, we're looking around and saluting each other in this special cider, which brings together our different styles, different techniques, and our different apples in a deliciously "Odd Crush."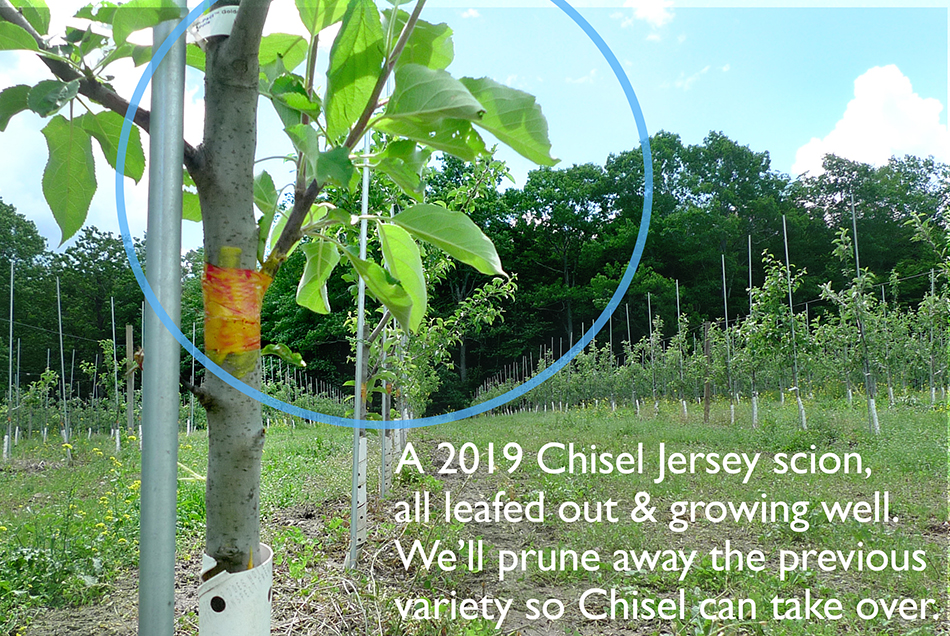 Apple Tree Switcheroo
These photos show apple trees being changed from one kind of apple to another. See the little leafy stub sticking out from the main stem of this tree? That stub will become the whole new top of the tree! Here, we're working this switcheroo on about 1200 trees, through the magic of grafting.