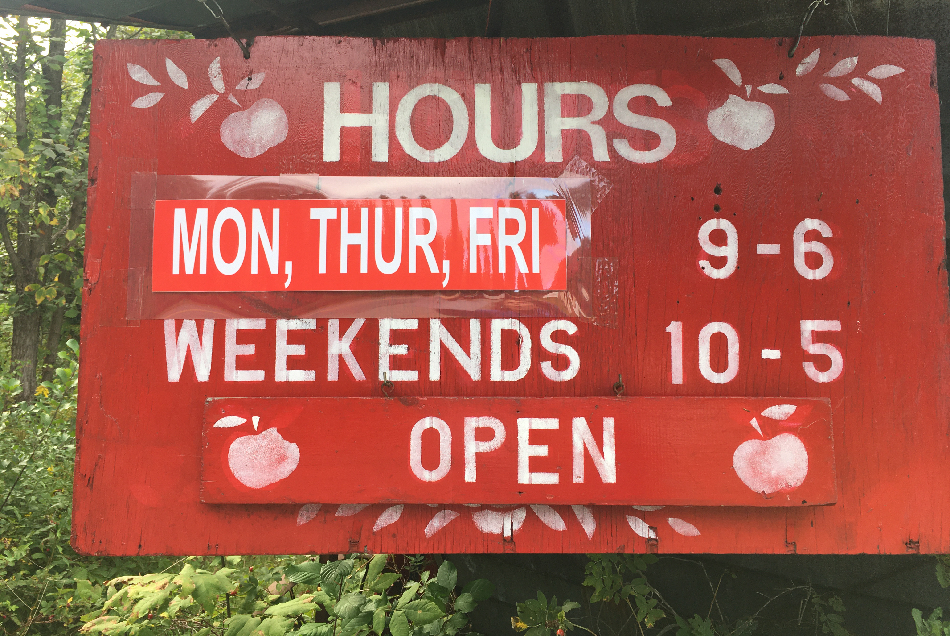 Farm-Stand Update: PYO Winding Down, Farmstand Fantastic
Week 8 of Harvest 2020:

PYO TAILING OFF: There are very low temps in the forecast, which often means Pick-Your-Own is ending soon.

But in past years we've been pleasantly surprised when visitors have gone exploring after freezes, and come back with great apples. ALWAYS TASTE!

(Apples usually freeze when temperatures hit the lower 20's F. Ice crystals inside the fruit break down the cell walls.

The mushy results will be enjoyed by birds, beasts & bugs, but not people.)


RETAIL STAND NEWS: Wonderful apples, including some great heirloom varieties. Sweet cider, Farnum Hill hard ciders (with tasting). Local PUMPKINS (hurry!), gourds, squash, jams, jellies, maple syrup (+ maple candy, cream, and sugar) - so many fall treats.
See below for apple varieties available in 5-lb US Fancy bags. CALL to know exactly what varieties are available in bulk bags.
Farnum Hill Cider tasting and growler-filling: all good.



Varieties ready-picked in the farmstand:

(CALL TO CONFIRM: 603/448-1511)


Ashmead's Kernel
Calville blanc

d'hiver
Cortland


Elstar




Esopus Spitzenberg


Gala
Golden Russet


Jonagold


Macoun


Mc

Intosh
Wickson

To repeat: as of 10/27 these varieties are available in 5-lb US Fancy bags, but do CALL to know exactly what varieties are available in bulk bags.

Farnum Hill Cider tasting and growler-filling: all good.

FYI: Sweet cider freezes very well. Consider storing some for the holidays and beyond - just pour an inch or two from the bottle, cap it and drop it in the deep-freeze.



(Anyone with helpful comments, please write

This email address is being protected from spambots. You need JavaScript enabled to view it.

.) And ALWAYS call with questions: 603/448-1511!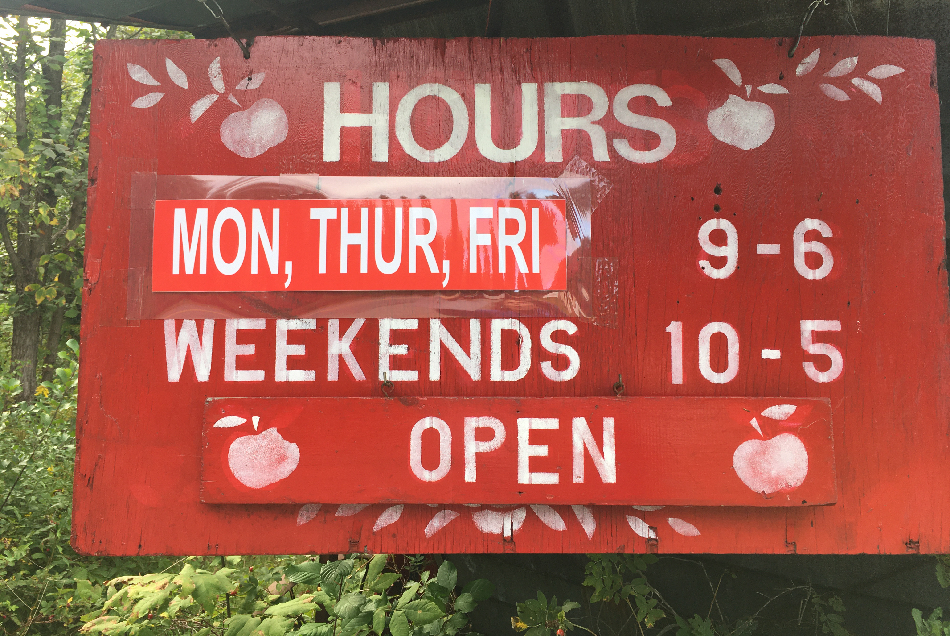 OPEN DAYS & HOURS
Mondays, Thursdays & Fridays: 9AM-6PM
Weekends & Holidays: 10AM-5PM

CLOSED
Tuesdays & Wednesdays
COVID PROCEDURES:

Scroll down for: Masks, Distancing, Retail Stand, Tasting, Tractor Rides, Picnic Setups, Parking, Farnum Hill Ciders.
Call (603)448-1511 with questions!
MASKS
Up here, everyone over the age of two wears a mask when they're within sight of other people.

Our thousands of visitors, with virtually no exceptions, have happily complied. (The masks-for-age-3-&-up policy is official in VT. Since we are five minutes from VT we adopted their policy.)



RETAIL STAND IN THE NEW CIDER BARN:

The floor plan inside the big barn is working well. This is pretty much how it looks now: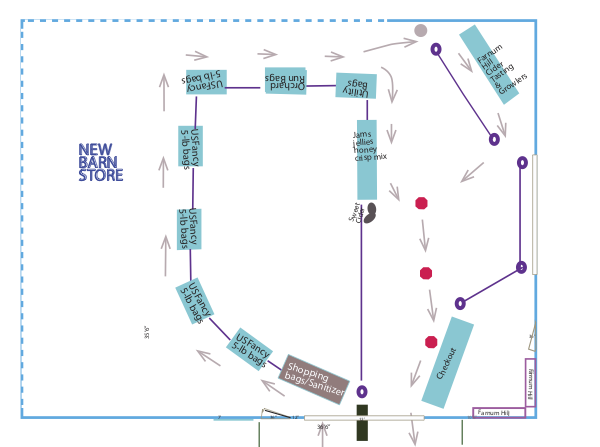 WALKING AND PICNICKING:
Though apple-picking's over, visitors are welcome to walk around, enjoy the views, let the kids run, use the picnic tables. There's a tall fence around the whole farm, so children who run out of sight can not possibly get lost!
Apple trees are turning gold now, in late October...
CALL with questions - (603)448-1511.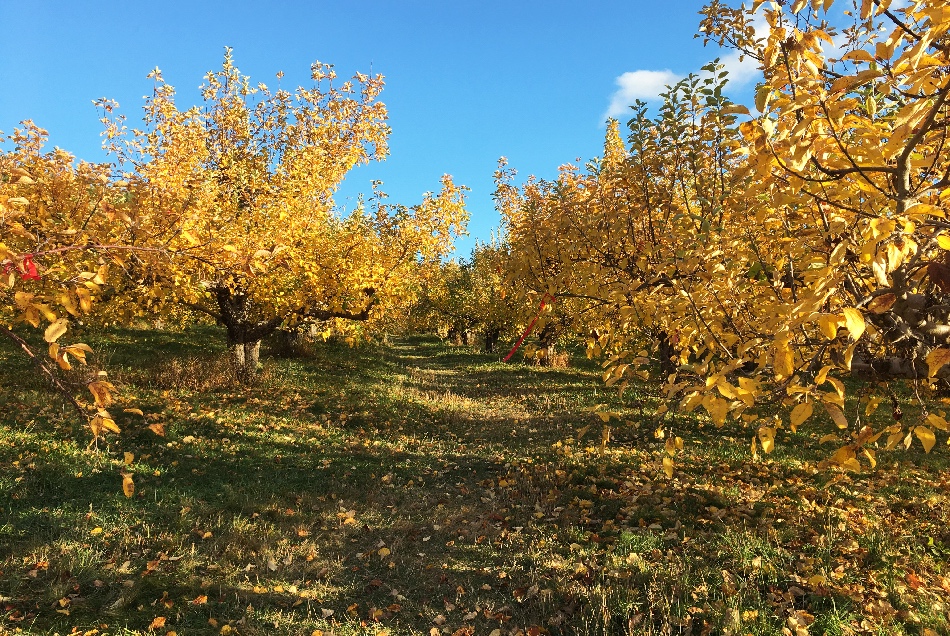 TASTING
In 2020 we don't offer the usual buckets of tasting apples in the farm-stand,
but we have set up an isolated tasting corner for sampling Farnum Hill Ciders. ALWAYS call ahead (603/558-1511) to make sure we can staff that corner.
For growler customers, same thing -

we'll be offering tastes of small blends and filling growlers anytime we can staff that corner. Please check ahead at (603)448-1511.

Always sanitize your growlers at home before bringing them in! We'll spot-sanitize where there's any contact but we can't do the full job on people's growlers.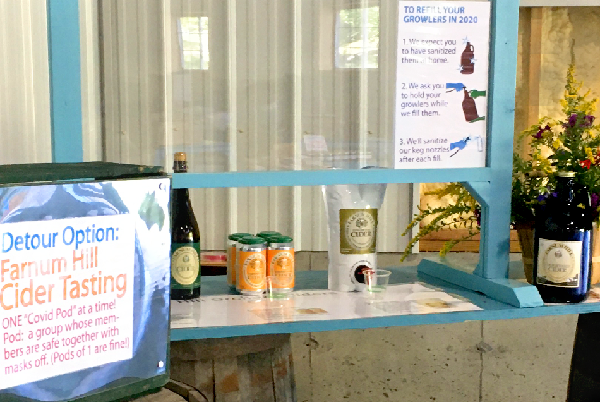 TRACTOR RIDES (LAST WEEKEND is Oct 31-Nov 1):
Tape stripes show areas six feet apart on the flatbed trailer.

We can carry two Covid pods per trip. (A 'pod' is a group of people who have ascertained that they are safe close together without masks.) LAST WEEKEND for rides is the Halloween weekend. A lot of happy folks have taken these slow rides through the apple trees in 2020.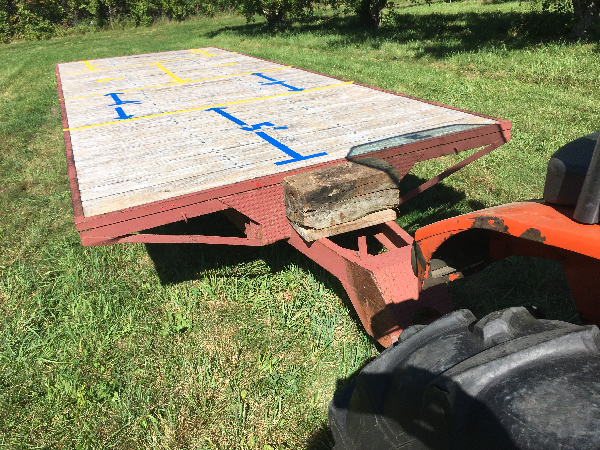 PICNIC TABLES & BENCHES
We have sanitizer at each picnic table, and of course tables are wide apart.
People have been using the tables or just bringing big blankets and setting up their own picnic islands in the grass. Again, lots of people have spent happy hours this way in 2020, and you are welcome to spend time in the orchards after Pick-Your-Own has ended.

As for benches, we'll leave it up to your individual judgment whether to use them. Here's a nice photo from last year. This year there's a picnic table in that spot, and the view is just as great over a mask...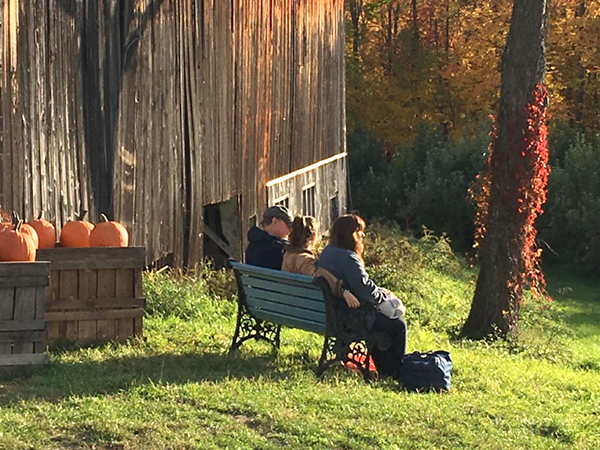 PARKING
Parking is easy this late in the season. But the ground is uneven and there's a blind corner so EXTREMELY SLOW DRIVING IS ESSENTIAL. Just another call on our patience in this extra-strange year!