MUSSELS IN CIDER BROTH

Mussels in a garlicky cider broth: simple to make, such fun to eat.

Eco-vegetarians who avoid most fish are often ok with mussels. (Mussel-farming is benign, especially compared with the dreadful effects of much other fish-farming!) And for St. Pat's, there's the Dublin song with the "cockles and mussels..."

But wait - those shells! We've always put them in compost or used them as garden mulch. Now we find those ideas recommended on the net - but we didn't know about simmering them into fish stock! We generally make extra because leftovers are so useful.

So altogether this seems a low-impact, delicious recipe..."
INGREDIENTS:

5lbs MUSSELS
2 MEDIUM SHALLOTS ( Minced, 3/4 cup. Non-sweet onions work fine, shallots cost a lot.)
1/2 MEDIUM HEAD GARLIC (Minced, 3/4 cup or add garlic to taste.)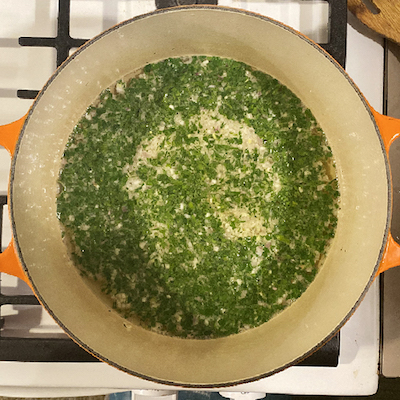 SMALL BUNCH FLAT-LEAF PARSLEY (Chopped, 3/4 cup or to taste.)
LARGE BAY LEAF
4-5 TBS UNSALTED BUTTER (Not vital, you dairy-avoiders!)
OLIVE OIL
2-1/2 - 3 C. DRY, SHARP, COMPLEX CIDER (ahem)
NEEDED:

A big, heavy, lidded pot.
STEPS:
1.Clean mussels in cold fresh water. Remove beards, if necessary. 
SORT them, and DISCARD any open, broken, or cracked ones.

2. Mince garlic and shallots/onions pretty fine. Chop parsley.

3. Warm just enough olive oil to cover pot bottom. 
Add shallots/onions and garlic, and heat (stirring) just until they're soft and aromatic.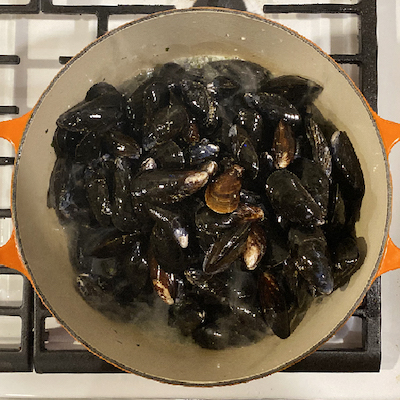 4. Add cider and bay leaf, turn up heat, and bring to slow boil. 
Turn down and allow to simmer for a few minutes.

5. Turn heat right up, add mussels, stir, and cover. 
Cook, stirring one more time, until mussels have all opened: 4-10 min, depending on size of mussels, batch size, heat retentiveness of pot, etc. (When they're open, they're done, don't keep cooking.)

6. Lift out mussels, transfer into large bowl, discarding any mussels that haven't opened, and the bay leaf.


7. Over very low heat, swirl butter, a bit at a time, into broth. Pour broth over mussels. Serve hot in bowls, ladling broth from bottom over each serving. Good with crusty bread, something green, and more cider for your glass. Or... your choice!

LEFTOVERS freeze well, and/or go into delicious soups, curries, pasta sauce, etc.