On Farnum Hill (and in most of the world), "ciders" are alcoholic beverages fermented from particular apples, just as "wines" are fermented from particular grapes. (Fresh apple juice is properly called "sweet cider" or – fresh apple juice.) Farnum Hill Ciders are dry (not sweet), aromatic, complex, great with plain or fancy food.

Cider apples, with their odd names and strange tannic flavors, make far better cider than fruit-bowl apples - just as wine grapes make way better wine than fruit-bowl grapes. "Bittersweet" apples (Dabinett, Ellis Bitter, Yarlington Mill, and more) help bring out a wild variety of aromas & flavors. So, many fruity, herbal, mineral, and earthy notes unfold within a pleasing tannic-acid balance.
Serve cool, not cold! Too much chilling hides the full fun of Farnum Hill aromas, flavors, and the fabulous food-friendly finish we're so proud of.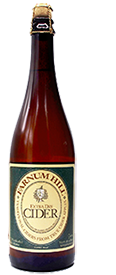 FARNUM HILL EXTRA DRY (totally dry) 7.5% ABV
Gold, bubbly and radically dry. Aromas of myriad fruits of the earth, and the earth itself, precede a complex, palate-cleansing balance of fruit, astringency, and acid. Sugar content zero, fruit notes rampant! Delicious with homey summer flavors like potato salad and grilled food, and any hearty main-dish flavors. With Indian, Thai-, or Szechuan spices, Extra-Dry clears, and cools the palate, highlighting both cider and food. Food flavors will not lose out to Extra Dry's clean profile, but will stand out more vividly against it.
(Please serve cool, 55-60F - cellar temperature. "Serve Ice Cold" means "Kill The Taste.")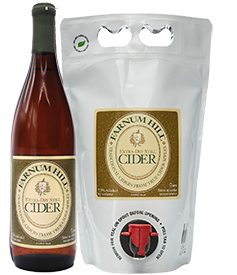 FARNUM HILL EXTRA DRY STILL (totally dry) 7.5% ABV
Golden, clear, and radically dry. No fizz between you and full flavor fun! The profile parallels XD (above), but more of its fresh acidity and cheerful sting come from "sharp" apples such as Wickson or Esopus Spitzenberg. Dancing CO2 not needed for that zing! Recent tastings show growing preference for still ciders among our fellow Americans. But still ciders remain very rare in the States, because a still cider must taste orchard-great.
Notice our handy "bagnum," which holds two bottles' worth (and skips all that heavy glass!) Actually at the farm we're sold out of the bottles for now. They're standing tall in certain stores, though. In the NH liquor system just search "Farnum Hill" for listings of which ciders are stocked where. Outside NH it takes more determination - see "Find Stores."
(Please serve cool, 55-60F - cellar temperature. "Serve Ice Cold" means "Kill The Taste.")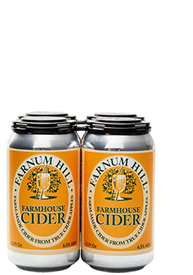 FARNUM HILL "FARMHOUSE" (barely off-dry) 6.5% ABV
Our most casual cider, pale gold, bubbly, with a peep of sweetness amid tart, bitter, and fruity elements: citrus, pineapple, bittersweet apple, and a whiff of good barnyard funk. A clean, appetizing finish makes it congenial with food, from the snackiest to meatiest and whole-grainiest. 'Farmhouse' is a more rustic cider than our others, with less complexity, and a point less alcohol. It's primarily blended from a group of real cider apples that ripen earlier than most. So for us it's a bit easier to make, and for you more economical to buy.
(Please serve cool, 55-60F - cellar temperature. "Serve Ice Cold" means "Kill The Taste.")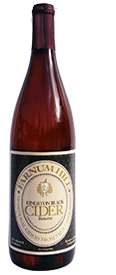 FARNUM HILL Kingston Black Reserve, 8.5% ABV, SOLD OUT AT THE FARM
Cider enthusiasts tend to get excited about Kingston Black, one of the very few cider apples that makes a really good, complex, balanced cider all by itself. It's an English apple that grows to perfection in our part of New Hampshire, but it's a diva. A classic Kingston Black fermentation is rich in canteloupe, bitter orange, candle-wax, florals and mysterious hormonal notes, all framed by razor-like acid and broad, tea-like tannins, which is what happened with the sold-out 2015 Kingston Black batch.
A total of 40-odd bottles are sprinkled around New Hampshire liquor stores, mostly in the huge Nashua store #50 near the Massachusetts line. Click here to locate the last few bottles in NH! https://www.liquorandwineoutlets.com/products/detail/43924/farnum_hill_kingston_black_rsv_cider
(Needless to say, don't ice this one down past 55F!)