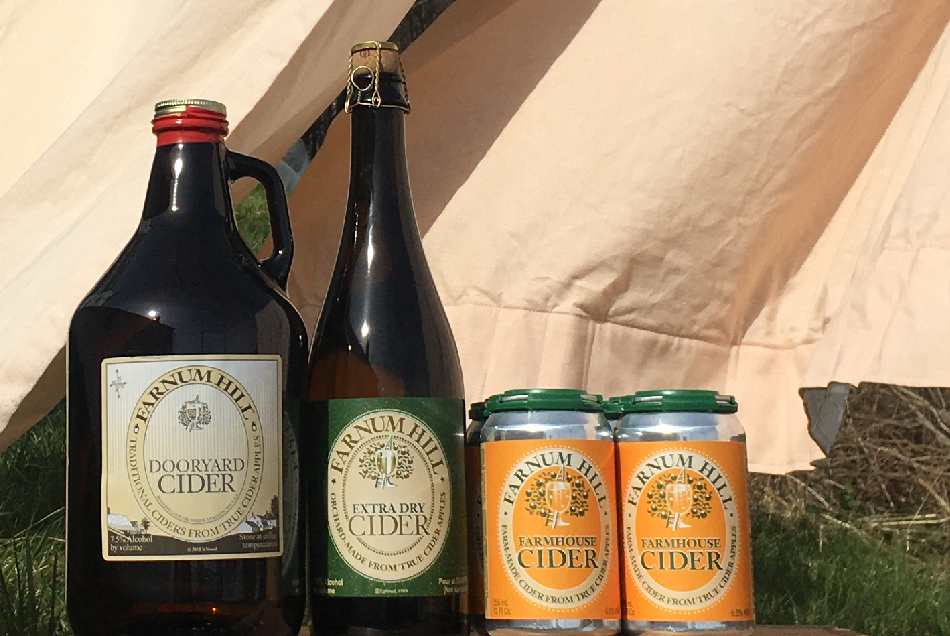 Fall Growlers 8/9 On!
Fall Growler Days start September 9th, continue every Saturday through October.
LONGER HOURS: 10AM-5PM That's every Saturday - Mark your calendars.
Saturdays we'll be staffed to offer all our alcoholic beverages, once a week, unless some special occasion crops up!
Feel free to email suggestions for special occasions: write Louisa: This email address is being protected from spambots. You need JavaScript enabled to view it.

What's going on? You may have heard that a freak overnight freeze in May destroyed some apple crops? That happened here. Branches are not bending! Come walk the aisles, see perky apple trees taking a break!
So we're doing a different fall season this year, welcoming people to roam, offering Farnum Hill Ciders & local treats for sale, but not selling apples... Here's the gist.
Thursdays through Sundays, we will be open 10AM-5PM.
On Saturdays only, we'll offer Farnum Hill Ciders. Credit cards will work on Saturdays.

On Thursdays, Fridays and Sundays,
we'll set up an honesty box in the retail stand:
That means cash or check ONLY.

Local treats? Syrup, maple candy, honey, jams and jellies, mums early on, gourds and pumpkins later.
To you who've shopped the November retail stand in past years, with the honesty box, it will be like that but... without apples

.

Fun in the fields and woods: Picnic tables will be out, fields and walking trails will be open. Hanging out/running around/playing will be encouraged.

This year might be the time to join the email reminder list: email Louisa at the address below. We won't pound you with emails.

Year-Round Growler Day info:
Usually Thursday, sometimes Saturday. Follow the arrows when you arrive at the farm on Poverty Lane.
Bring your half-gallon containers, they need not be our growlers.
Growler refills in your container cost $10.
If you need growlers, we sell new ones for $3.50 (glass has gone up again.)

All FHC products available for taste and sale besides of course the growler batch(es?).
More questions? Call the Fruit Phone, 603/448-1511 or email Louisa at This email address is being protected from spambots. You need JavaScript enabled to view it.

MORE GROWLER BACKGROUND & BASICS HERE



Call (603)448-1511 or write This email address is being protected from spambots. You need JavaScript enabled to view it. for more info.