We need to get the news out:
NO APPLES for RETAIL 2023!
HOWEVER:
Starting Saturday Sept 9, we'll open Thursday, Friday, Saturday, Sunday through October.
(CLOSED Monday, Tuesday, Wednesday)

WHY?
Because it's gorgeous up here!
We can offer lots of local treats -
but mostly, beautiful places to walk, picnic, and hang out - the orchards are perfectly fine.
The woods are full of life.

So if you like walks, views, space to run around, come up!
You don't have to buy anything BUT:

2023 RETAIL WILL OFFER:
Local treats all four days, 10AM-5PM. (Syrup, honey, jams, jellies, mums, gourds, pumpkins as they come in...)
Farnum Hill (hard) Ciders only on Saturdays, 10AM-5PM (Tasting? YES!)
NOTE: Credit cards on Saturdays ONLY
Cash or check needed on Thurs, Fri or Sunday: it's the honesty box!

We know the orchards will be much quieter than in a normal season.
There will be room for group fun!
So if you have ideas (a volleyball net??) just write Louisa:
This email address is being protected from spambots. You need JavaScript enabled to view it. , subject line "Orchard Fun 2023."

As you walk the fields, you'll see a very few apples - if they look good, pick them. Finders keepers!
Kids might enjoy running ahead through the aisles, hunting for fruit.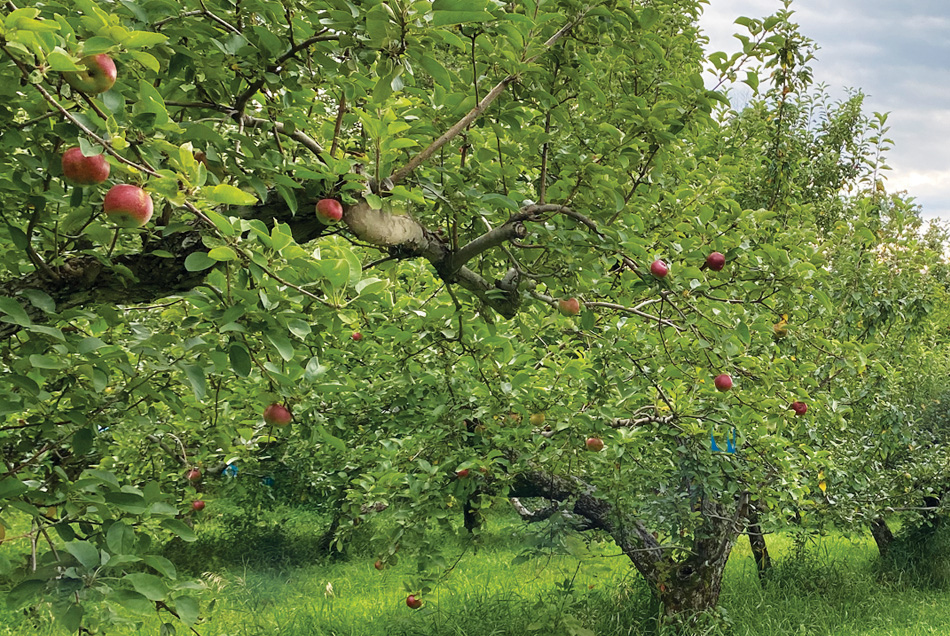 How did this happen? An exceptional May freeze! (They've become more likely as we continue to push the climate in unprecedented ways.)
One night in mid-May, the air temperature went to 21 degrees F for several hours. Virtually all the tiny just-formed apples, and most of the remaining blossoms on our trees, were destroyed. When ice forms inside the cells of blossoms and tiny applets, it tears the cell walls.

The trees won't bloom again until next year. But there are always little odds and ends of bloom, extremely late, that have formed apples here and there. Some are misshapen or damaged, others look pretty normal.

Here's the big sign we'll put up starting Saturday, September 9th.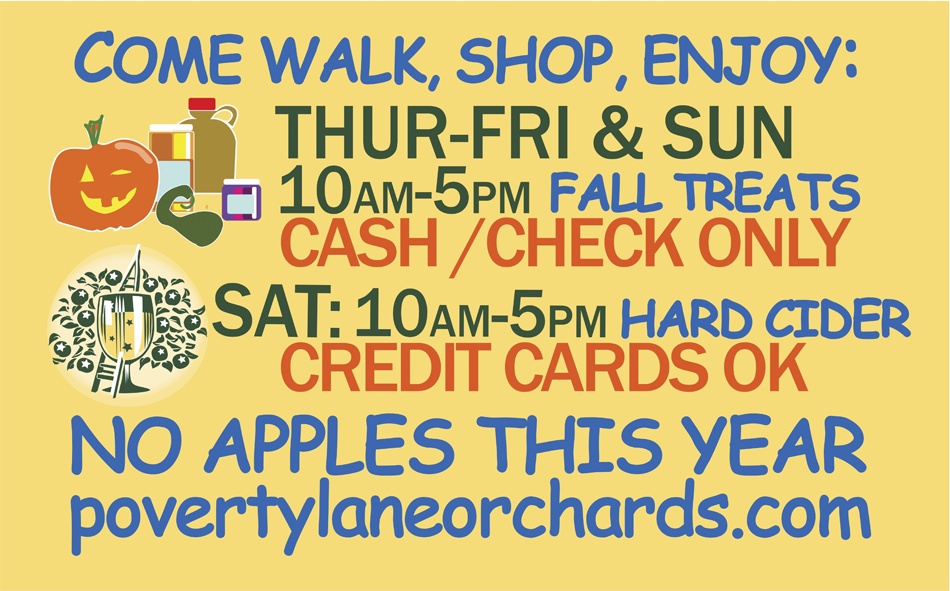 If you've read this far, thank you! Cheers!