We need to get the facts out:
NO APPLES for RETAIL 2023!
HOWEVER:
Starting Saturday Sept 9, we'll be open Thursday, Friday, Saturday, Sunday through October.
(CLOSED Monday, Tuesday, Wednesday)

WHY?
Because it's gorgeous up here!
We can offer lots of local treats in the farm stand.
And for free, beautiful places to walk, play, picnic, and hang out.
The orchards are perfectly fine.
The woods are full of life.

So if you like walks, views, space to run around, come up!
You don't have to buy anything BUT:

2023 RETAIL WILL OFFER:
Local treats all four days, 10AM-5PM. (Syrup, honey, jams, jellies, mums, gourds, pumpkins as they come in...)
Farnum Hill (hard) Ciders only on Saturdays, 10AM-5PM (Tasting? Growlers? YES!)
NOTE: Credit cards on Saturdays ONLY
Cash or check needed on Thurs, Fri or Sunday: it's the honesty box!

We know the orchards will be much quieter than in a normal season.
There will be room for group fun!
So if you have ideas (a volleyball net??) just write Louisa:
This email address is being protected from spambots. You need JavaScript enabled to view it. , subject line "Orchard Fun 2023."

As you walk the fields, you'll see a very few apples - if they look good, pick them. Finders keepers!
Kids might enjoy running ahead through the aisles, hunting for fruit.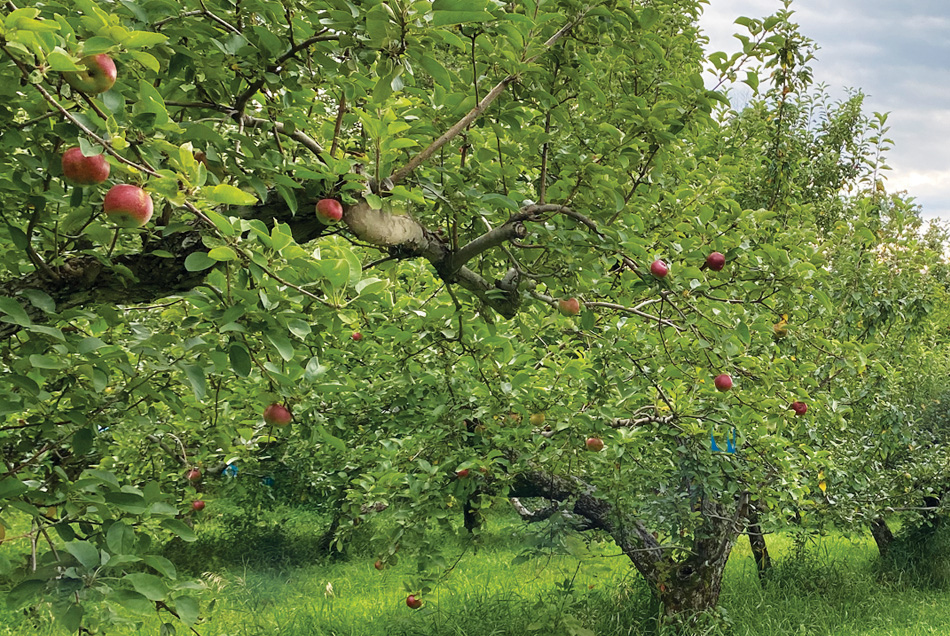 How did this happen? An exceptional May freeze! (They've become more likely as we continue to push the climate in unprecedented ways.)
One night in mid-May, the air temperature went to 21 degrees F for several hours. Virtually all the tiny just-formed apples, and most of the remaining blossoms on our trees, were destroyed. When ice forms inside the cells of blossoms and tiny applets, it tears the cell walls.

The trees won't bloom again until next year. But there are always little odds and ends of bloom, extremely late, that have formed apples here and there. Some are misshapen or damaged, others look pretty normal.

Here's the big sign we'll put up starting Saturday, September 9th.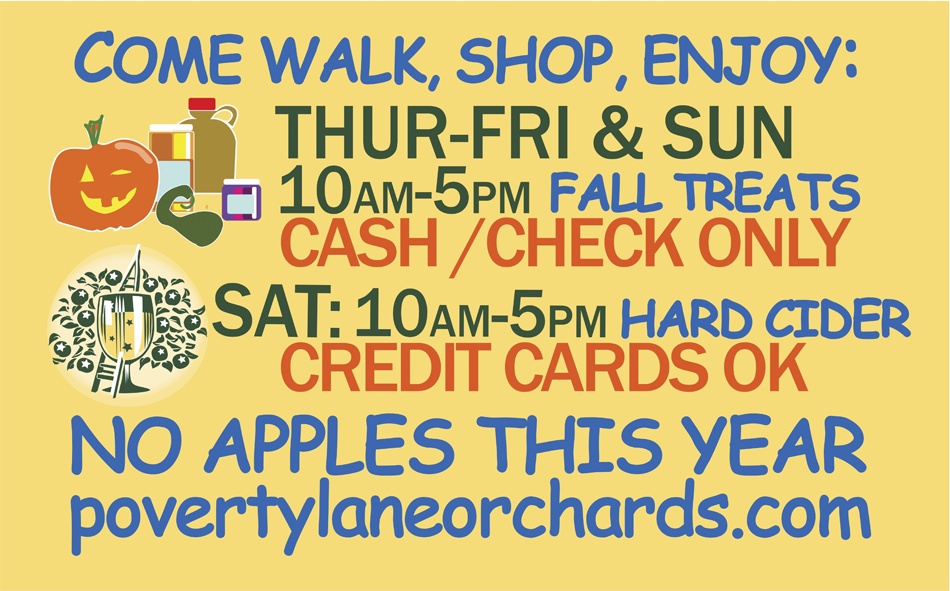 If you've read this far, thank you! Cheers!

Routine Growler Day info:
Usually a Thursday, sometimes a Saturday. Follow the arrows when you arrive at the farm on Poverty Lane.
Bring your half-gallon containers, they need not be our growlers.
If you need growlers, we sell new ones for $3.50 (glass has gone up again.)
All FHC products available for taste and sale besides of course the growler batch(es?).
INFORMATION from NORMAL YEARS (Not 2023)
Growler Days (click here) are our only off-season retail (December-August).
The last day for our self-service farm-stand setup was Monday, Nov. 21, 2022.

ROUTINE INFO: Most of the year, our only retail days are Growler Days - one or two days a month when locals come to taste and buy Farnum Hill Ciders, noon to five pm. Anyone can join our Growler Notification List by emailing or calling - see email below. Anyone can receive a Farmstand Coupon card worth $2 at the stand - just email your postal address to This email address is being protected from spambots. You need JavaScript enabled to view it..

In September and October, we offer acres of Pick-Your-Own, tons of different ready-picked apples, many other local treats and plenty of space for outdoor fun, woodland walks, and hanging out as long as you like! Meanwhile the wholesale harvest is going on, with trailerloads of apples coming into the home farm from more distant orchards.

Call (603)448-1511 any time of year, with any questions! Or email

This email address is being protected from spambots. You need JavaScript enabled to view it.

.

Year-round, find our Farnum Hill ciders in stores listed on the Where-To-Buy page: NH liquor stores, the local Co-ops, local Price Choppers, local Hannafords etc. Remember - for any questions, Dial the Fruit Phone: (603)448-1511 or write

This email address is being protected from spambots. You need JavaScript enabled to view it.

.
Map & Directions | Contact



Also, find our Farnum Hill ciders locally in stores listed on the Where-To-Buy page: NH liquor stores, the Co-ops, Price Choppers, etc.
Here are a few more late-season snapshots from 2022.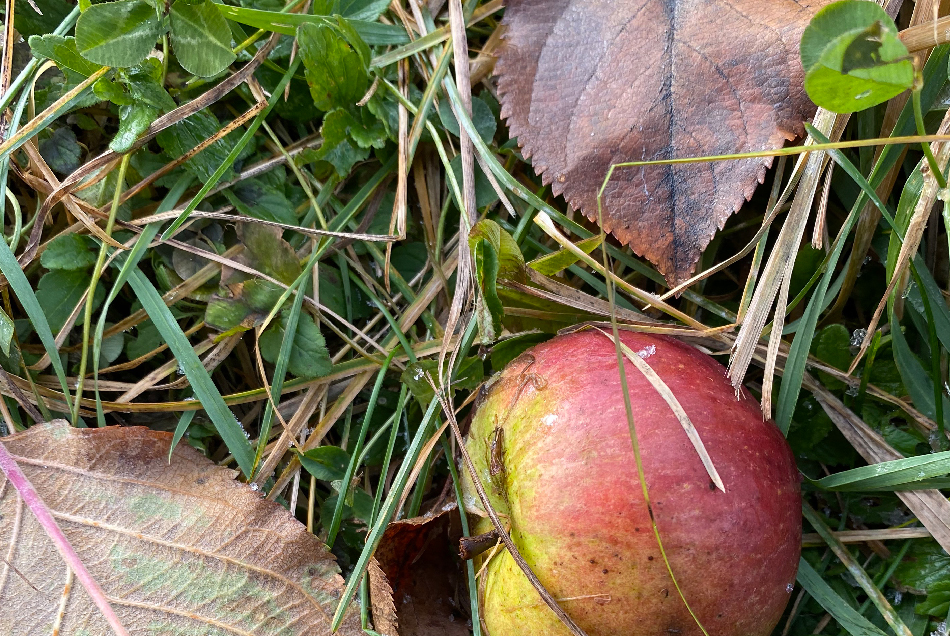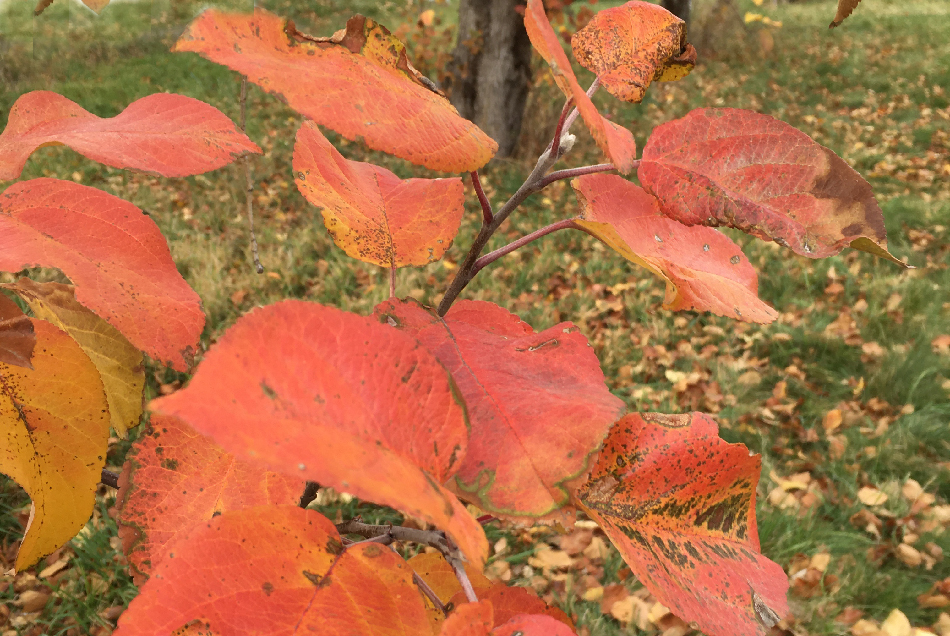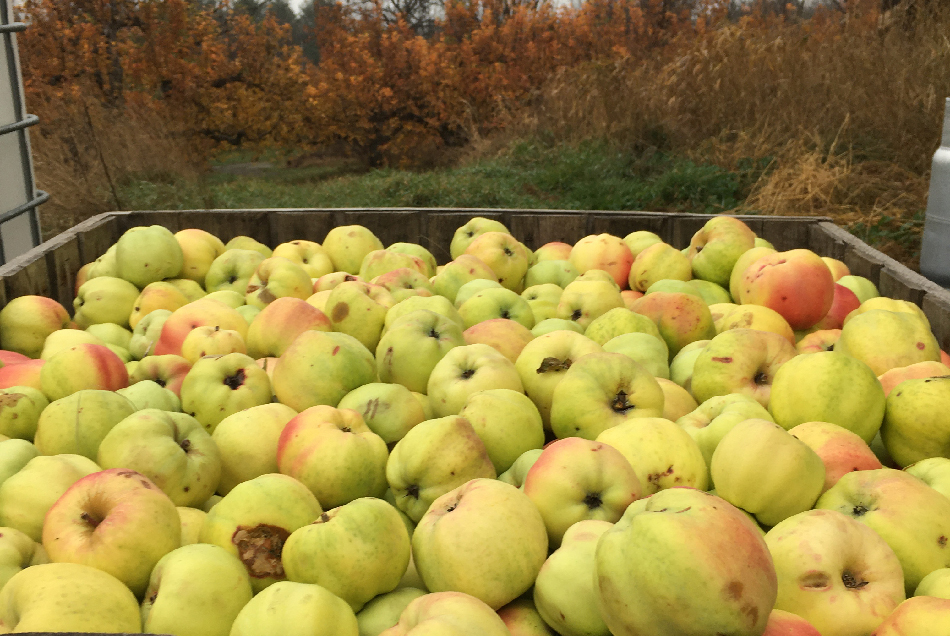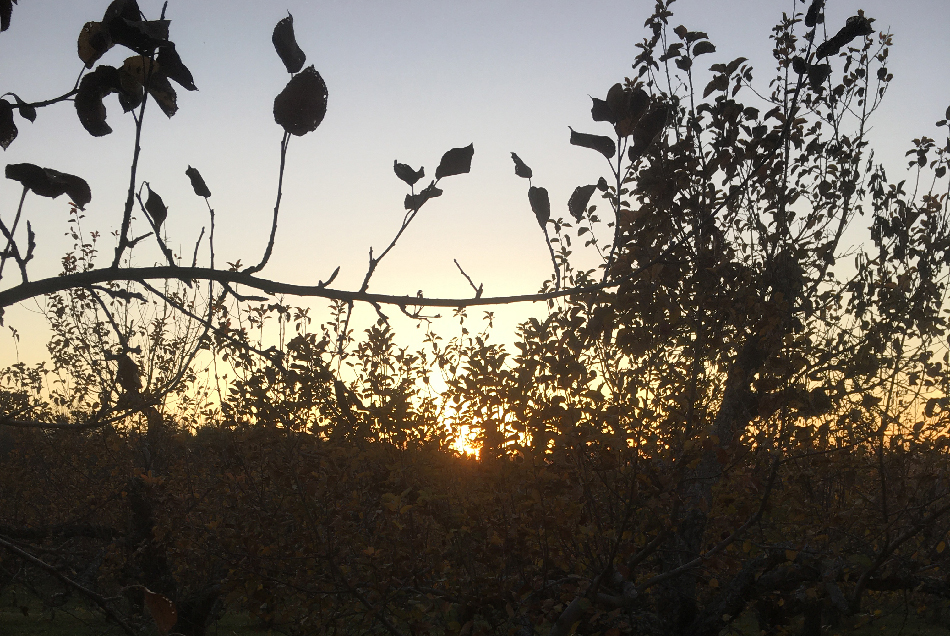 (Anyone with helpful comments, please write This email address is being protected from spambots. You need JavaScript enabled to view it. .) And ALWAYS call with questions: 603-448-1511!
CALL ANYTIME WITH QUESTIONS! 603-448-1511