Up here in winter, we open for Growler Days, every other Saturday 12-5pm in the cider room. This new routine kicked off Feb 22, 2020, so count onward or - check our Facebook page or - even sign up to get email notices a day ahead. We promise the growler email list will not be used for anything else... (So far people really like the change from Thursdays.)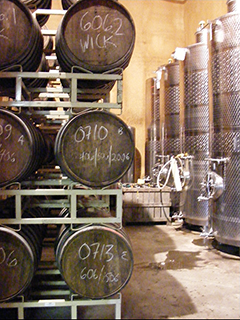 Growler customers enjoy bringing their empty half-gallon jugs for refilling. New customers who don't have half-gallon jugs at home can buy new empties here. But we encourage using what you have. Customers park and follow our arrow-signs to the cider room ... and walk into a unique chamber filled with warm cidery smells and different Farnum Hill cider batches to taste and choose from. It's a fun quest on the greyest NH winter day. Sparkling winter days are a bonus! Growler refills cost $10. A new glass half-gallon growler will run you $3 up here, so look around the homestead in case you already have a half-gallon container that will work. Please don't bring odd sizes!
WINTER GROWLER DAYS!
Alternate Saturdays, 12-5 pm in the cider room.

CALL AHEAD WITH QUESTIONS! 603/448-1511