We've been open since Labor Day Saturday.
Keep calling (603)448-1511, because that is the best source of info through the fall season.

OPEN HOURS:

Saturdays, Sundays and Holidays: 10-5
Mondays, Thursdays and Fridays 9-5 - now that it gets dark before 6.
CLOSED Tuesdays & Wednesdays

MASKS NEEDED INDOORS ONLY. See more info under the apple photo below.

FAQ's:

Q: Are there ready-picked apples to buy?
A: There are more and more ready-picked apple varieties each week as our various crops become ripe. If you have a favorite variety, ALWAYS CALL ahead! (603)448-1511! Orchard life is unpredictable.

Q: Will there be tractor rides?
A: On fair weekends we will do our absolute best to offer rides around the orchards on a big flatbed behind a tractor. People seem to love these rides so whenever we have a tractor available to do them on Saturdays and Sundays, a slow circuit through the apple trees is available. Pick-Your-Own customers can hop off in the middle and wait for a ride back or just walk back to the barn. But anyone who wants to watch fruit trees go by is welcome to sit on that wagon.

Q: What's the PYO price?
A: We sell three different bag sizes: half-peck, peck, and half-bushel. So if you fill your bag, the price works out to $1.25/lb.
That's because a half-peck, for $6.25, holds about 5 pounds of apples. It weighs a bit more if the apples are smaller, and a bit less if the apples are very big.
The peck bag is twice as big, for $12.50, and the half-bushel is twice as big as the peck: 20 pounds for $25.

Q. Is your sweet cider pasteurized?
A. No, because we do not press dropped apples into our sweet cider. Back in 1996, e-coli infections on the west coast were traced to cider made with dropped apples that picked up the bacterium from the ground. Now in New Hampshire, no sweet cider can legally be wholesaled without being pasteurized. We decided not to pasteurize, because it does seem to take away some of the delicious flavor. However, to prevent any risk of e-coli, we also stopped pressing any drops at all into our sweet cider.
(Of course for generations people safely pressed drops into sweet cider. E-coli seemed unable to survive in the acidic juice. However apparently the e-coli bacterium has become capable of living in apple juice. So the simple solution for us was to stop using drops and stop wholesaling sweet cider!)

Q. Why should we always call (603)448-1511 if we have particular questions before we come?
A. Because things change all the time during our harvest season. Different apple varieties ripen at different times, depending on the year. So if you are hoping for particular varieties, call!
For another example: we have a harvest crew bringing in apples from other fields located around Farnum Hill and in Plainfield. Sometimes things happen that make it impossible to offer everything we would like for PYO farm during the fall. For example, if a crew tractor breaks down on a weekend we might have to haul apples with the tractor that usually gives rides. Apple harvests are full of surprises!

Q. Do you offer other things besides apples and sweet cider?
A. YES, a variety of New Hampshire farm-made products: jams, jellies, maple syrup, maple sugar, maple candy, plus pumpkins, gourds, and our dry Farnum Hill Ciders, 6.5-7.5% alcohol - all made or grown either right here, or near here.

Q. Can we taste and buy your Farnum Hill adult-beverage ciders at the farm stand?
A. Yes and yes. Besides our Extra Dry, Extra Dry Still, and Farmhouse, we usually have some small-batch cider for growler customers. If you have growler bottles - they don't have to be ours - bring them! You might like a fill from a Farnum Hill Dooryard batch! (We also sell empty new half-gallon growler bottles if you don't have them already.)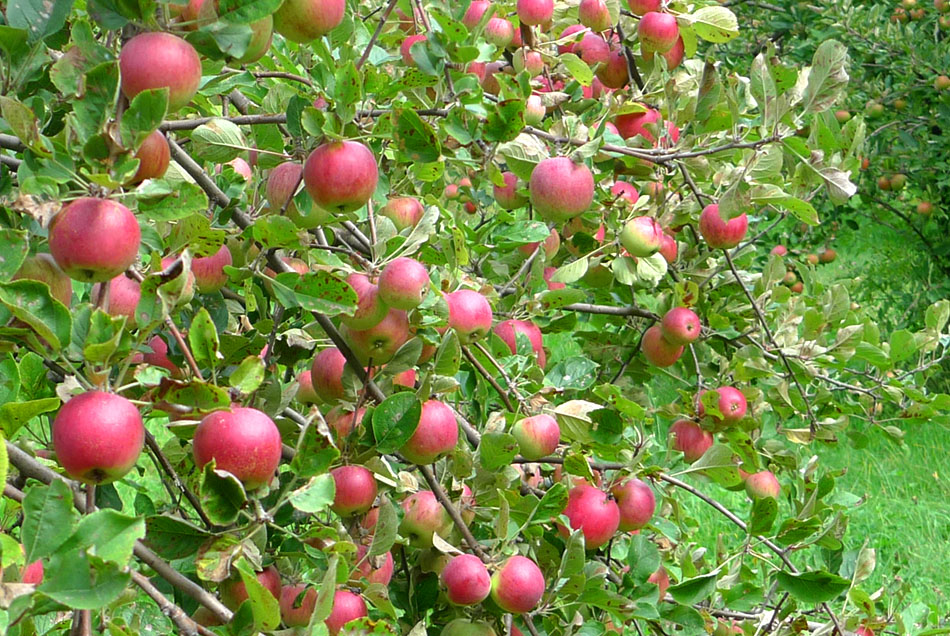 MASK POLICY
We're asking everyone to bring a mask, and wear it indoors. Lebanon's authorities require this.
We'll have a spaced-out floor plan in the big barn like last year. Like everyone else, we got the hang of social distancing. So this year we're doing a more relaxed version! Here's one snippet of the many local treats in our farm-stand.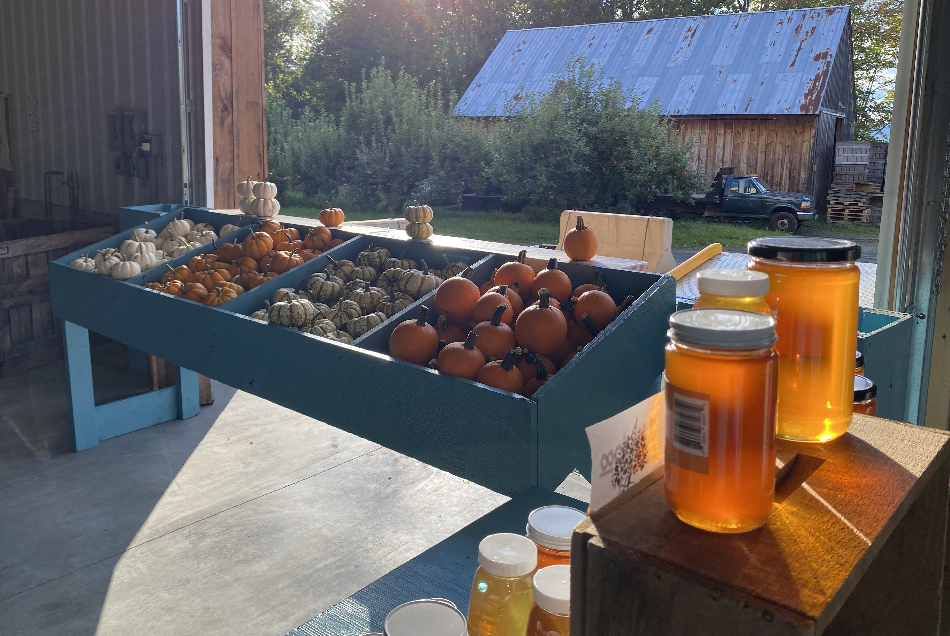 One more thing - this is a good place to hang out. No reservations, no pressure to buy anything, plenty of space. Lots of room to walk (or run if you're a kid). A tall fence around the whole place (which is relaxing if you're a parent.) We offer picnic tables, and some people set up their own outdoor living rooms, as below. We hope people will take their trash home and dispose of it there. (So far that's been going well.)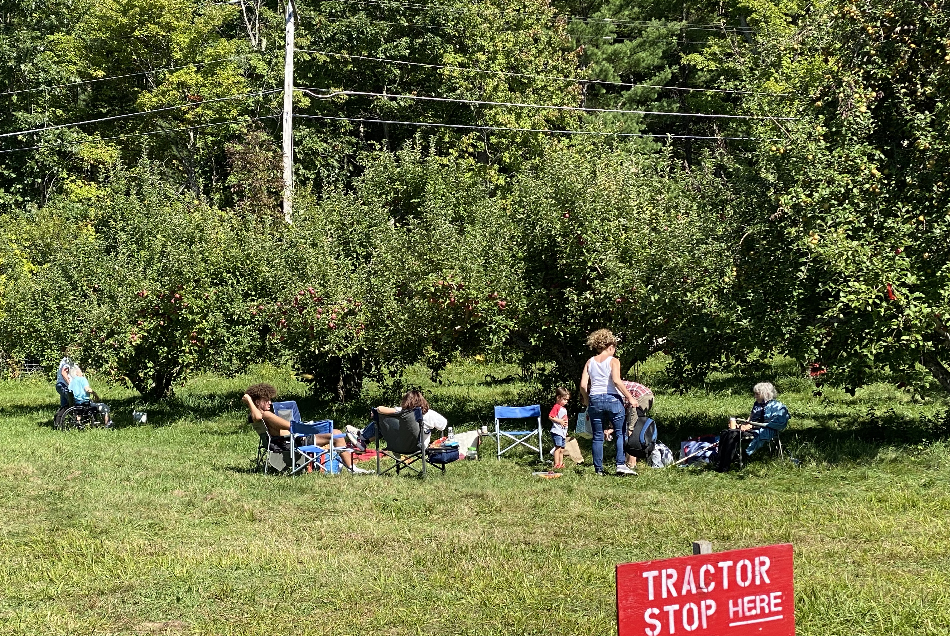 We hope to see you roaming and picnicking in these orchards sometime this fall! Any questions? Dial the Fruit Phone: (603)448-1511!
Or write This email address is being protected from spambots. You need JavaScript enabled to view it. .











LOOKING BACK at 2020:

We thank all the thousands of people who visited here during Fall 2020. It was a treat to see so many people having so much fun, while carefully making sure others felt safe.
We also thank our retail crew - so welcoming, so adaptable, so great at coping with whatever the days brought on!

Here are a few late-season snapshots.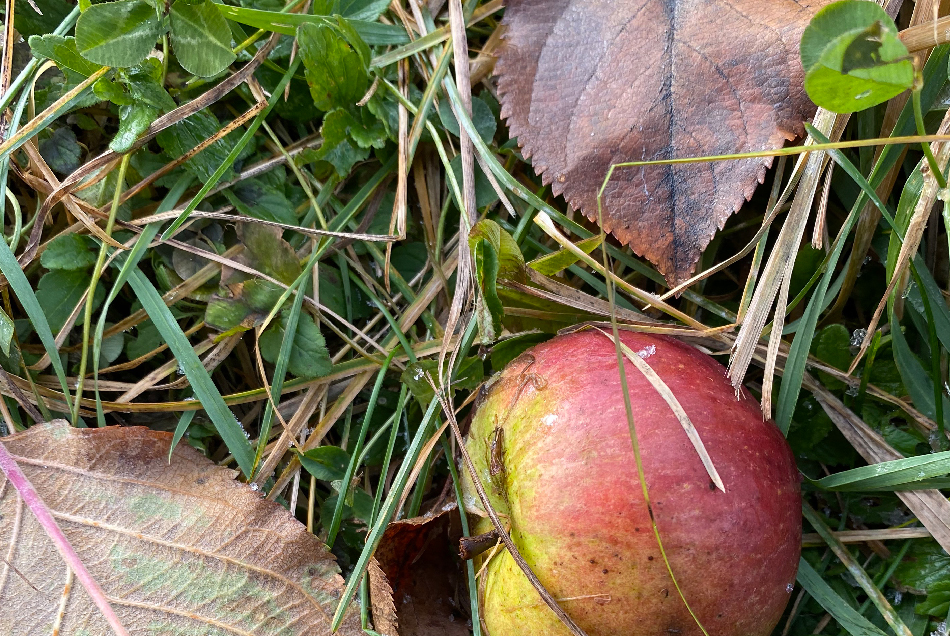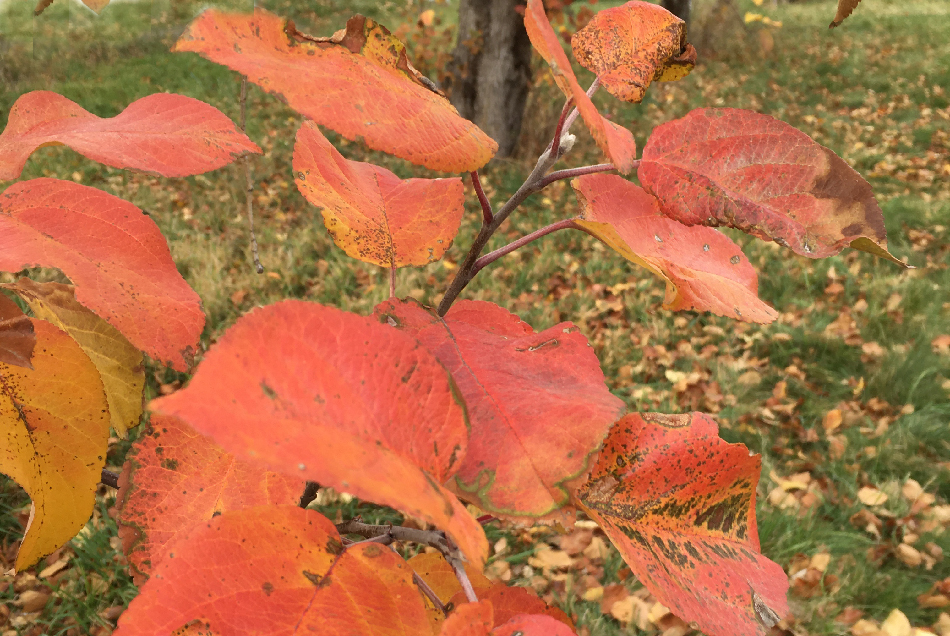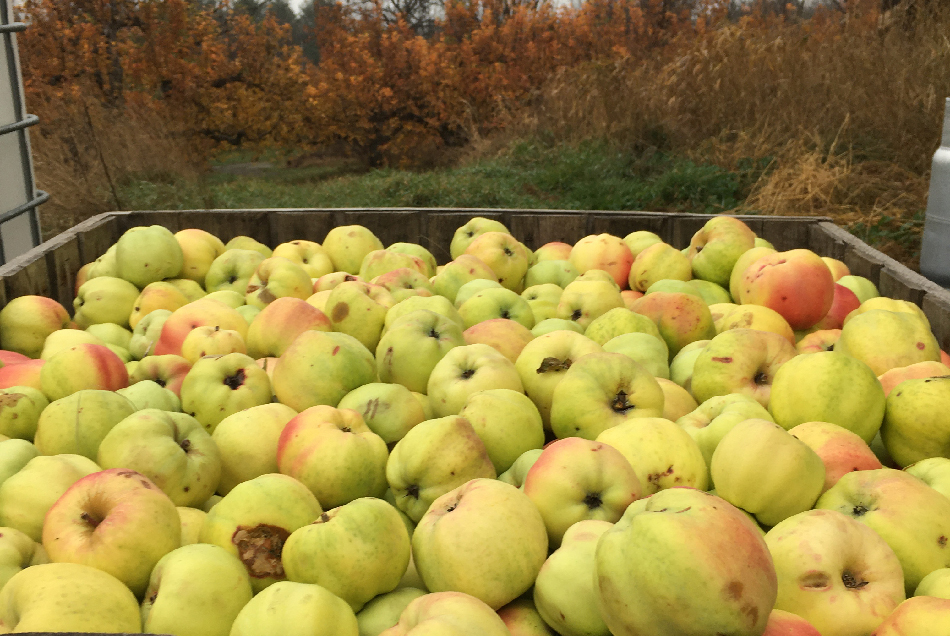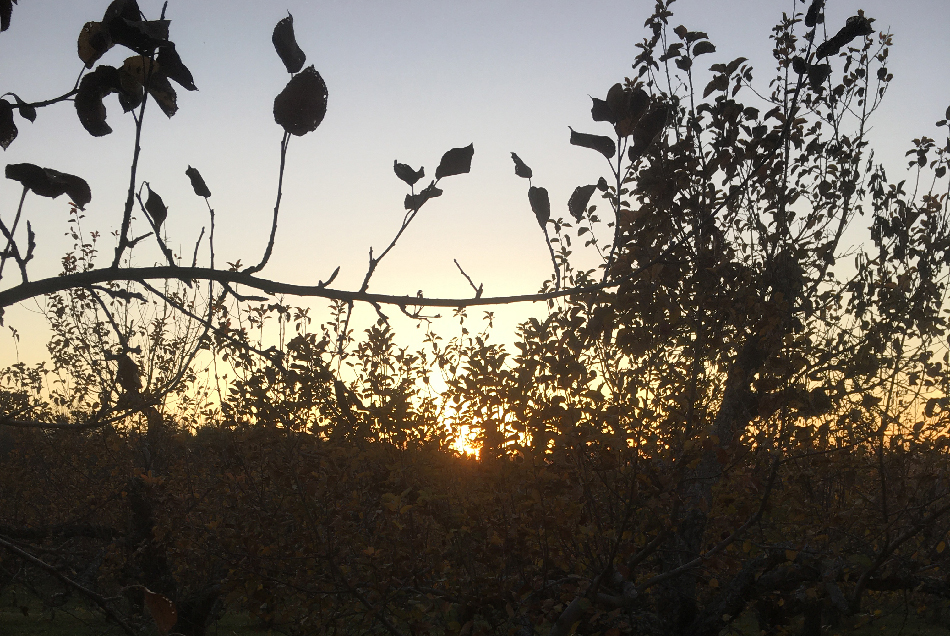 (Anyone with helpful comments, please write This email address is being protected from spambots. You need JavaScript enabled to view it. .) And ALWAYS call with questions: 603/448-1511!


CALL ANYTIME WITH QUESTIONS! 603/448-1511