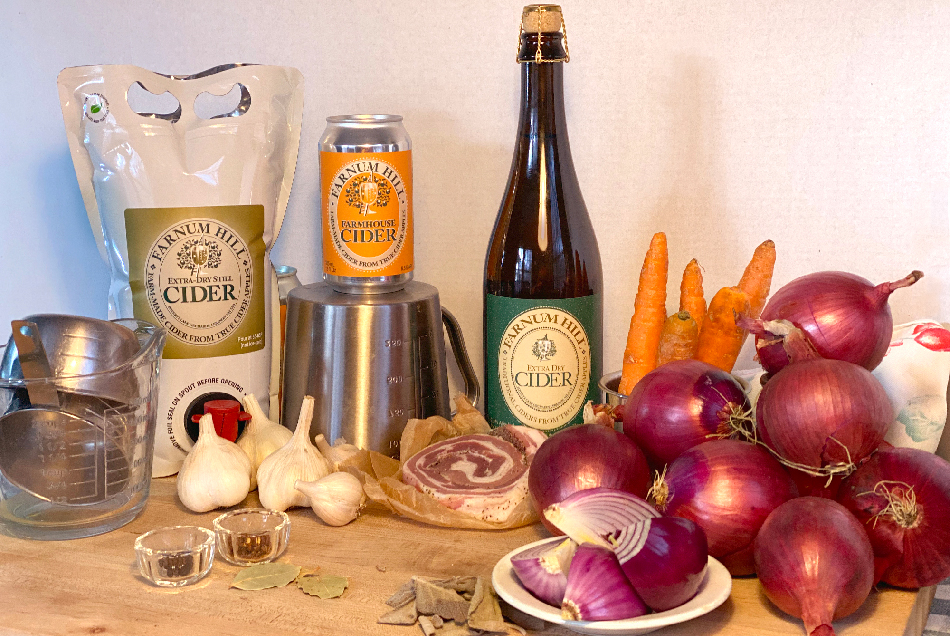 Braising Vegetables in Cider
FH ciders give excellent flavors to any braise: here's one winter vegetable recipe we came up with years ago. It's versatile, of course, keeps for later serving, reheats well. The short, cold days and long dark evenings call for hot & hefty dishes! You can vary this braise a million ways, with all sorts of other winter veg.

RED ONION & CARROT CIDER BRAISE
INGREDIENTS:
5-8 medium red onions (more or fewer according to size), peeled and quartered (leave some of the root end, so the quarters don't fall apart)
3+/- medium carrots, cut into 3" pieces of roughly uniform thickness (slice the thick ends)
Lots of garlic (3-6 substantial cloves at least, unless you're averse to garlic), minced
Olive oil or your preferred oil for browning onions and carrots
Bouquet garni (herb bundle) to taste (tied together, or wrapped and tied in clean cotton cloth/cheesecloth/paper coffee filter):
1 sage leaf, or dried equivalent

1-3 sprigs thyme, or dried equivalent

1 sprig rosemary, or dried equivalent

1-2 dried cloves, stuck into a clove of garlic

1 bay leaf
3/4-1" chunk pancetta, shaved thin, or at least sliced as thinly as possible. Any strips cut down to 1+/- inch long.
500ml -750 ml (2-4 cups) Farnum Hill cider (1 bottle Extra Dry, or 1/2 bagnum, or 2 cans Farmhouse, or 1/2 Growler Dooryard)
OPTIONS:
IF VEGETARIAN, leave pancetta out, and do whatever you like to bring savory qualities into cooking liquid – miso paste, or vegetable/mushroom stock or other vegetarian ingredients. Reduce cider by about 1/2 (250 ml), and mix with same volume of savory liquid. (More cider for your glass...).
Red onions can be replaced/augmented by yellow or white onions, shallots, large scallions, or any other tasty alium. Leeks and ramps work, with careful imagination. Not sure about chives all alone, but would give them a whirl in a pinch.
Carrots can be replaced/augmented by other root vegetables (parsnips, turnips, etc.), as you please.
Use whatever herbs you like., including chopped parsley on top before serving.
TO COOK:
Preheat oven to 215º F.
On stove-top, add enough oil to just cover bottom of fairly large Dutch oven or heavy pot.
Heat on medium, till oil slightly threatens to smoke.
(IF USING PANCETTA) lightly brown pancetta slices/pieces in oil. Remove pancetta and set aside.
Drain and discard most of pancetta oil (very salty), and add enough olive oil to cover bottom of pot again. Heat.
Add onion and carrots to pot. Brown lightly on all sides.
Add in batches, if necessary, to allow space for consistent browning.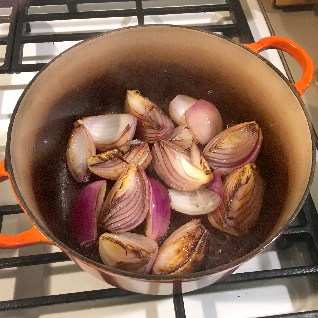 Allow 4-5 minutes for each batch.
After removing each batch, replenish and heat oil, if necessary, before adding the next batch.
Brown moderately (don't caramelize or sear).

Turn heat off. Add minced garlic to heated pot containing last batch of browned onions and/or carrots.
Cook garlic until soft and fragrant (30 sec-1 min), in residual heat of pan with heat turned off,
Turn heat back to medium, and add roughly 4/5 of the cider or mixed liquids (500 ml or 1-2/3 cups),
Scrape bottom of pot with wooden spatula, then add remaining batches of browned vegetables, and herb bundle.
Bring to slow boil.
Reduce heat to simmer. Simmer uncovered on stovetop until liquid reduces slightly.
Cover, and place in preheated 215º F oven.
Simmer slowly, covered, until onions and carrots are toothsome: 3/4 - 1 hour (kitchen will smell great). Add a bit more cider/liquid if necessary. (If you already drank the rest of the cider, a little water or stock will do).
(IF USING PANCETTA) Return pancetta to pot at end of cooking. Season cautiously with salt and pepper to taste, let stand covered, and serve when convenient.
Remove herb bundle and discard.
Can be made ahead and reheated.
PREP TIME: About 1/2 hour
COOKING TIME: About 1-1/4 hours (including 45 min in unattended oven)