Week 7 of Harvest 2020:
Pick-Your-Own is in its last stage, but walking & searching are still rewarded.

ALWAYS TASTE what you're picking

so you know whether you like it! Rows of Wickson and Golden Delicious, furthest uphill from the farmstand, are still plentiful.

Macs & Cortlands, still hanging sparsely in three orchards, are amazingly red, and still crisp. CALL ahead Thursday 10/22 or later, a lot can happen in a couple of days.

(Fruit trees generally drop their un-picked fruit. Trees work to distribute seeds, to make new trees.

That's how P-Y-O ends - we're not in charge.

)

By Thursday 10/22, varieties ready-picked in the farmstand will be:
Ashmead's Kernel*
Calville blanc

d'hiver
Cortland


Elstar




Esopus Spitzenberg


Gala
Golden Russet*


Jonagold


Macoun


Mc

Intosh
Wickson
*just being picked Mon-Tues 10/19-20

All of these are available in 5-lb US Fancy bags, but do CALL to know exactly what varieties are available in bulk bags.

Weekend tractor rides, Farnum Hill Cider tasting, and growler-filling: all good.

BUT, nature has taken an unhappy course in the multivariety heirloom orchard, Two Below the Barn. You'll find an update just below the hours, and it is frustrating.

Some people have enjoyed wandering around the orchard with their charts, seeing what they could find, but it's a long way from its best.


(Anyone with helpful comments, please write

This email address is being protected from spambots. You need JavaScript enabled to view it.

.) And ALWAYS call with questions: 603/448-1511!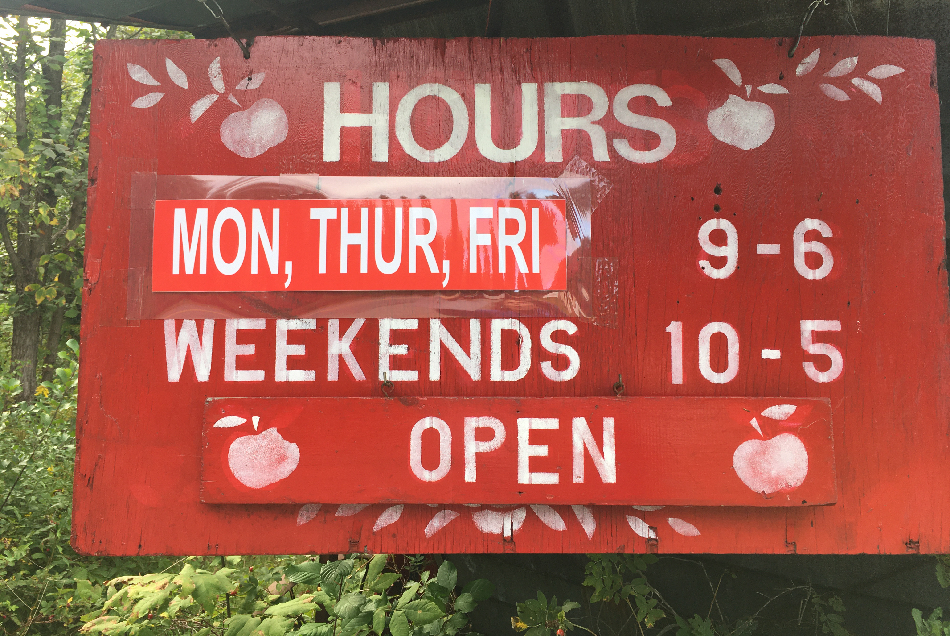 OPEN DAYS & HOURS
Mondays, Thursdays & Fridays: 9AM-6PM
Weekends & Holidays: 10AM-5PM

CLOSED
Tuesdays & Wednesdays





UPDATE ON "TWO-BELOW" HEIRLOOMS in 2020


So far we've had delightful weeks of apple-picking up here.

However, the 2020 growing season hit our famous heirloom trial orchard hard with fire blight and drought. We opened it Saturday, Sept 25, but it's hard to feel much excitement. Several all-star apples we all look forward to - just are not pickable.

You'll see why if you walk down there. A lot of others barely grew a crop at all. However the stalwart New England varieties on the framework trees, the Cortlands and Macs, are annoyingly excellent! "

Two Below" in 2020 looks more like a science project than what we all looked forward to.

Here is the

variety chart

FYI, but please realize most of the apples named are not actually there. The farm-stand now offers Esopus Spitzenberg and will offer Golden Russet plus (maybe) some of the other favorites that grew well in our more distant orchards.

However we all know that's less fun than chomping and picking your way through the amazing apple zoo.





But hey! Given 2020's huge list of disasters, frustrations, and irritants, we're trying to put this one in proportion. We still have beautiful apples, space, light, air, and many many seasonal pleasures!



That said, people have enjoyed a few earlier heirlooms in 2BB that looked pretty good. T

here are some later ones, such as Baldwin, Newtown and Red Delicious, which may be worth checking on -

often they get picked early by people who think they taste ok

.

But for the rest, if you walk through, you'll see the results of fire blight, uncertain pollination, drought, and probably more factors we can't name.

Here's a 3-week-old photo of St. Edmond's Pippin 2020, which came through well and has of course been picked by now.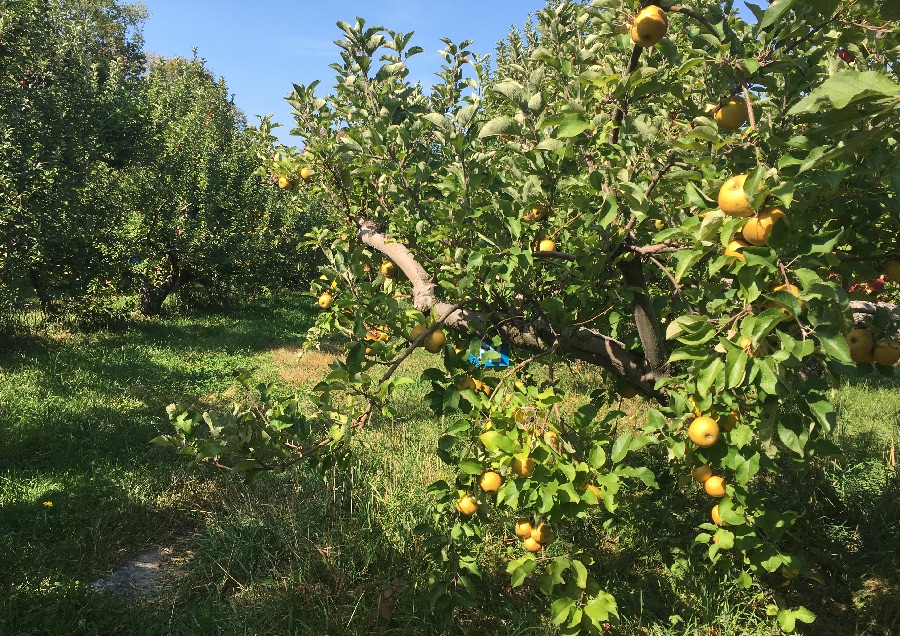 The farm-stand will eventually offer Golden Russet, Spitzenberg and a few other favorites that grew well in our other orchards, but we all know that's not as much fun as chomping and picking your way through that apple zoo.



MORE of POVERTY LANE's ORCHARDS are OPEN:

Just because so many people have been coming, we've also opening the Mac & Cortland orchard with the great view of Vermont (It's called the Pear Orchard because it contains some pear trees.) By now it's probably been picked out by our crew but you can walk through there for fun, so it's still possible to hike around more than usual. So the big orchard above the barn, the two smaller orchards below the barn, and a fourth, through the woods south of the barn, are all open for picking, strolling, distancing. We wish we could have hired more porta-potties, but that's another shortage in Covid times...

COVID PROCEDURES:


Scroll down for: Masks, Distancing, Retail Stand, Tasting, Pick-Your-Own, Tractor Rides, Picnic Setups, Parking, Farnum Hill Ciders ... more will be added
as Fall comes on.
Call (603)448-1511 with questions!


MASKS:
All visitors over the age of two must wear masks. (Required by the state of VT. Lebanon NH requires masks for everyone over 10 years old, but we're five minutes from VT and we'd rather use the most cautious local standard)
.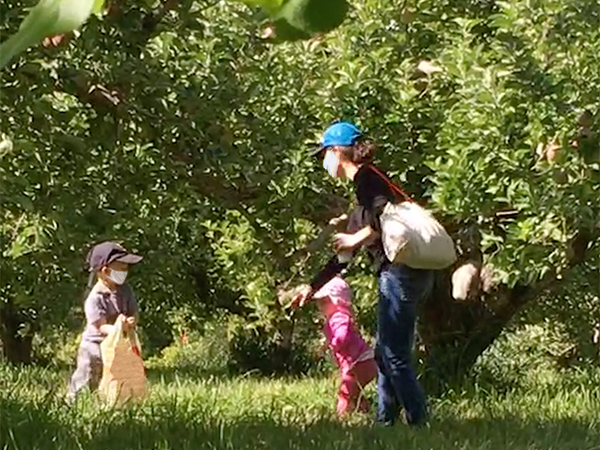 DISTANCING:
Out in the orchard distancing is not difficult, but obviously our old fun retail tent just won't work in 2020. So - welcome to the new barn, where distancing works fine! We'll have an additional Pick-Your-Own checkout in the field for extra help spreading everyone out. And most of the home farm orchards are open for people who just would like to wander around or put down a blanket and hang out with their covid-pod. Again though, we could only get hold of one portable toilet, which is close to the driveway entrance... They are hot properties in 2020.
(See below for our PYO changes.)

RETAIL STAND IN THE NEW CIDER BARN:

The floor plan inside the big barn is working well. This is pretty much how it looks now: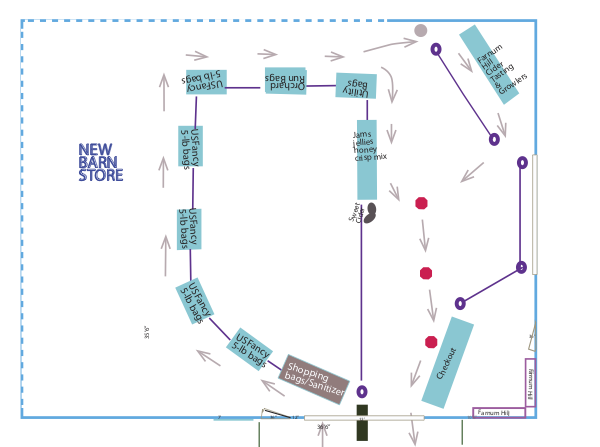 PICK-YOUR-OWN APPLES
Our 2020 PYO is really different, because there's no weighing in. People have been choosing among three different-sized bags for pre-purchase: half-peck (about 5 lbs full), peck (about 10 lbs full), or half-bushel (about 20 lbs full.)
Customers buy empty bags, head into the orchard, and pick as many apples as they want, up to the limit of the bags they've chosen.
So far everyone has been very pleased!
As needed, we'll h
ave an extra checkout in the field for PYO. (This is what most PYO orchards are doing under Covid conditions - once a bag is yours, no-one else will have to touch it.
If you have extra fruit, maybe give it to a neighbor.
)
There are low-hanging apples still but it takes more walking per apple
to find them than it did in earlier weeks.
CALL with questions - (603)448-1511.

ALSO: PLEASE taste the apples! Know what you're picking!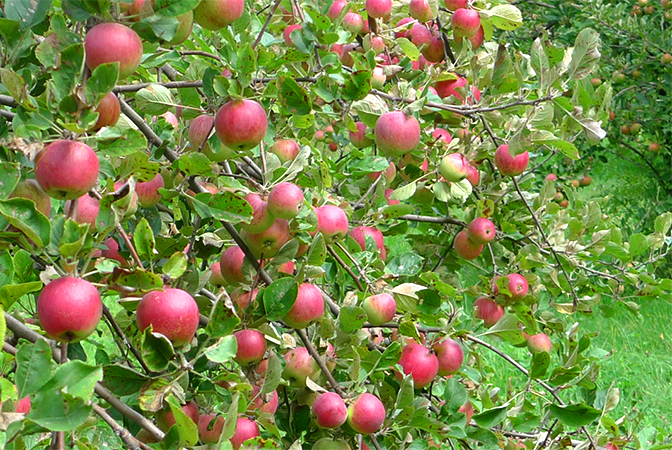 RETAIL OUTSIDE:


As you may already know, the

presale of Pick-Your-Own bags

is mostly happening outside the building.

We decided the

pumpkins

should be outside too, by the Pick-Your-Own tent. They'll be priced as "Small / Medium / Large" rather than being individually weighed and priced, so customers can look them over without rolling them over to see the prices. We're trying to hold down the amount of touching each pumpkin gets. Ideally, you eyeball them and pick up the one you want.

Squash

are inside the farm-stand, and can be weighed by you at checkout without our touching them - the quality this year is really good.

SHOPPING BAGS
We'll have shopping bags here, but it's fine to bring your own for shopping through the big retail stand, now that local stores are allowing it. Unlike the dear old tent setup, there's a concrete floor in the 2020 farm-stand -- so we want to minimize the prospect of glass jars being dropped! (In the tent they just bounced..)

We're not touching your bags: we'll check your items by looking at them.



TASTING
In 2020 we won't offer the usual buckets of tasting apples in the farm-stand, but we have set up an isolated tasting corner for sampling Farnum HIll Ciders. ALWAYS call ahead on Mondays, Thursdays and Fridays to make sure we can staff that corner.

Weekends should be no problem.

For growler customers, same thing -

we'll be offering tastes of small blends and filling growlers anytime we can staff that corner. Please check ahead at (603)448-1511.

Always sanitize your growlers at home before bringing them in! We'll spot-sanitize where there's any contact but we can't do the full job on people's growlers.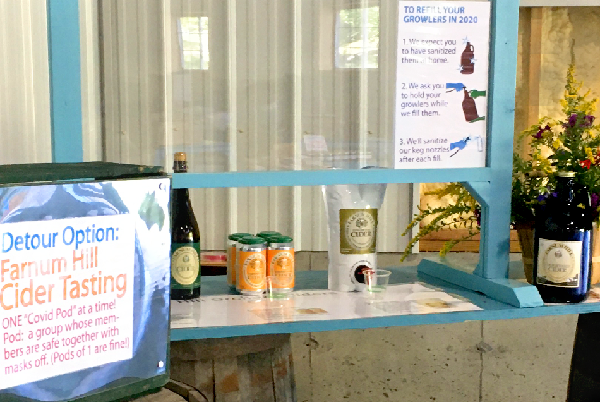 TRACTOR RIDES (Weekends in good weather):
We've put down tape stripes to show areas six feet apart on the flatbed trailer.

We can carry two Covid pods per trip. (A 'pod' is a group of people who have ascertained that they are safe close together without masks. Obviously the number of people per pod varies a lot.) So far the tractor rides have been very much enjoyed...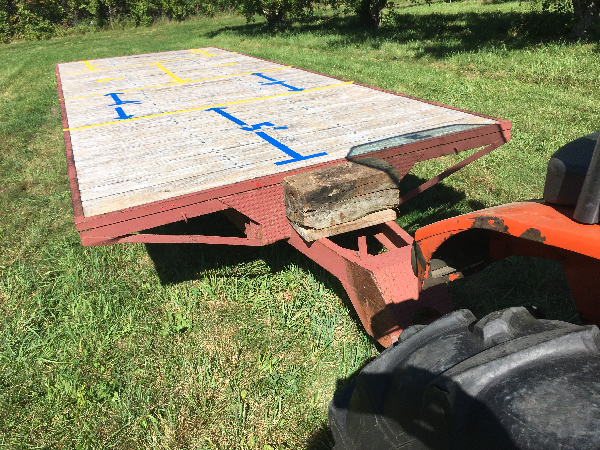 PICNIC TABLES & BENCHES
We have sanitizer at each picnic table, and of course tables are wide apart.
People have been using the tables or just bringing big blankets and setting up their own picnic islands in the grass. Here's a nice picture from 2019 - in
2020

groups are smaller, further apart, and masked up when they're not sitting still and distanced from other groups...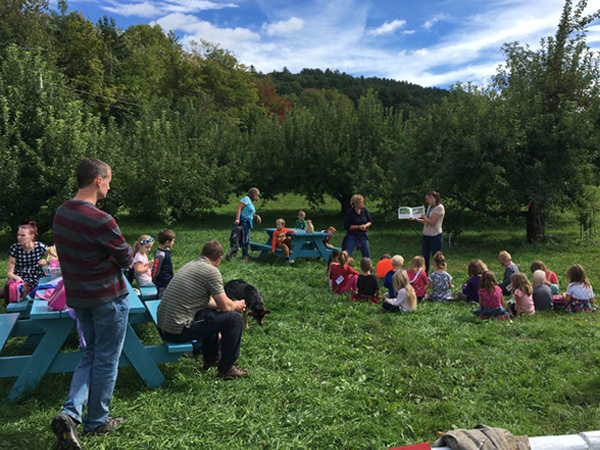 As for benches, we'll leave it up to your individual judgment whether to use them. Here's another nice photo from last year. This year there's a picnic table in that spot, and the view is just as great over a mask...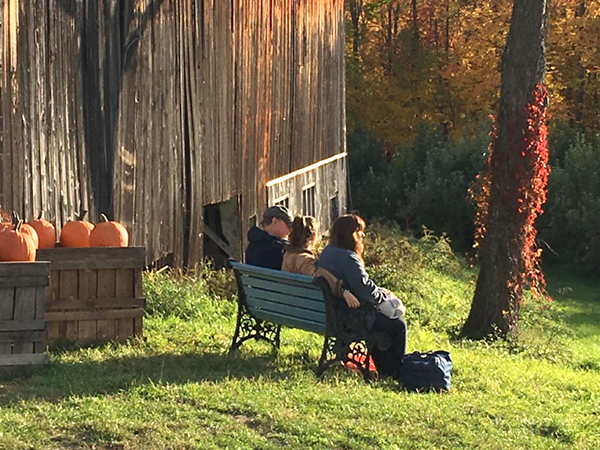 PARKING
People have been cheerful about parking wherever they can and walking to the new retail area. On weekends we've been saving the close-up parking spaces for people who need them. Of course there are many more spaces in the yard where we've always had parking. EXTREMELY SLOW DRIVING IS ESSENTIAL. Once you've managed to park your big metal machine, there's plenty of room for actual people to wander as far as they like. Just another call on our patience in this extra-strange year!