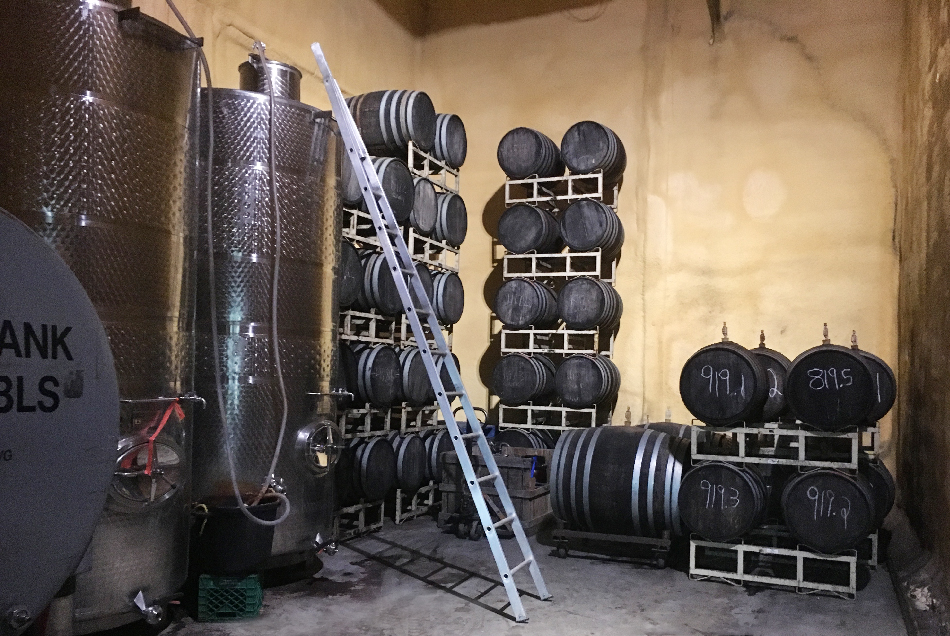 Farnum Fermentations Finishing
Well, the weather outside is frightful! Inside, our 2019 fermentations are quieting down. For a few weeks there, the cider room was filled with loud bubbling noises of busy fermentation. (We're trying to figure out how to post a bit of audio but for now you'll have to take our word for it!) Anyway here are a few of our nicer-looking tanks and a bunch of barrels, all sending out the occasional bubble, showing the last stages of fermentation are still happening. At Farnum Hill we ferment our stellar cider juices just once. We think that's the best way to make dry ciders that express the delightful character of the particular apples we grow here.
So if we ever get any malolactic ferment, or secondary ferment, or (ack!) acetic ferment, those are blunders here on Farnum Hill. Other excellent cider-makers intentionally take their juices through one or more further fermentations, but here we love the fresh, fruity, bracing, bright, complex flavors that arise from one (slow, cool) fermentation per batch. So that's what's happening right now... More later!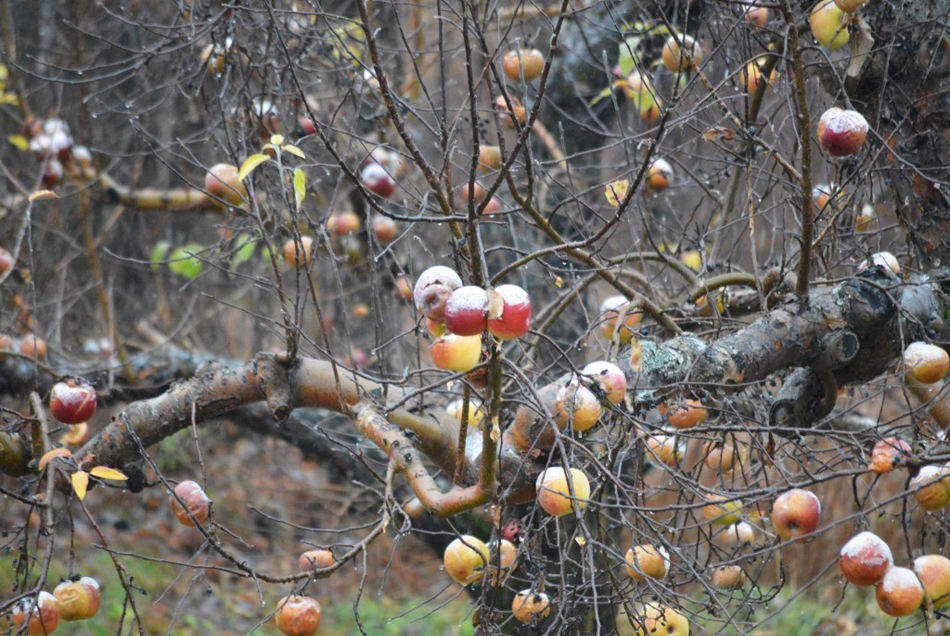 Apples Are In, Pressing Goes On
We'll have newsier news soon. The apples are in, the cider-pressing goes on, we'll get some details up in this space ASAP, in case you'd like to read more about the harvest. Thanks for stopping by!
It's Harvest Time!
We're now well into our harvest retail season. Still loads of snappy Macs & Cortlands on the trees, not to mention spectacular Macouns. Also - while they last - you can pick Ribston Pippin, Wickson and Calville Blanc d'hiver in the top rows of our Big Stearns orchard. For those you must use your own judgment: taste one and decide whether to pick more!

Not picking? Check the retail stand for bagged Macs, Corts. Macouns, Gala, Jonogold, Elstar, two kinds of pears and more. ALWAYS CALL 603/448-1511 for the latest varieties in from the field. No way we can keep this website current with the day-to-day real-life harvest

Every week is different during the harvest! Come see what's coming in: 9-6 weekdays, 10-5 weekends and holidays.
As the fall goes on, more and more delicious pick-your-own and ready-picked fruit comes on! Read more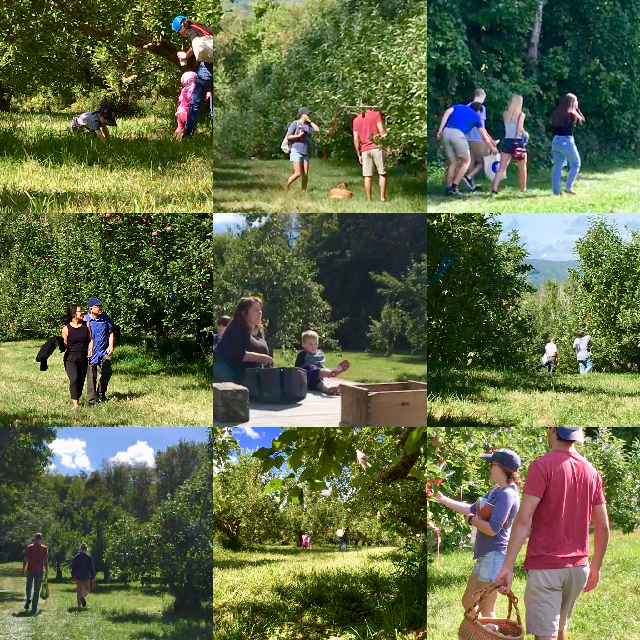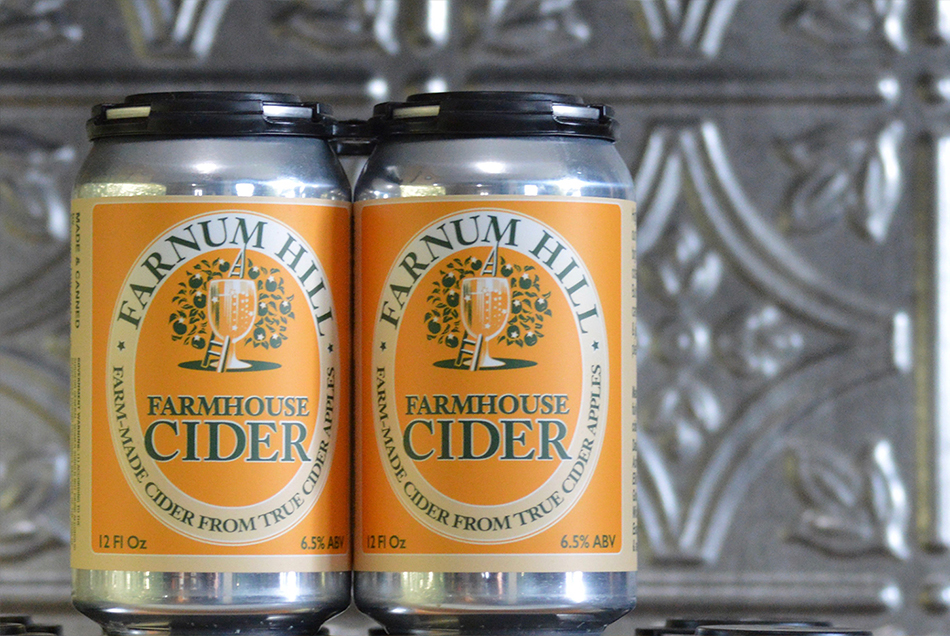 Coming! More Farmhouse Canning
Farnum Hill's second run of Farmhouse 12-oz four-packs is nearly gone! The next run is scheduled!
Our first canning venture in 2018 went so well that in Summer 2019 we canned three times as much Farmhouse. That batch of canned Farmhouse has flowed out through New Hampshire, Massachusetts, Maine, New York, and Chicago. So our courage is up, can-wise, for Round 3.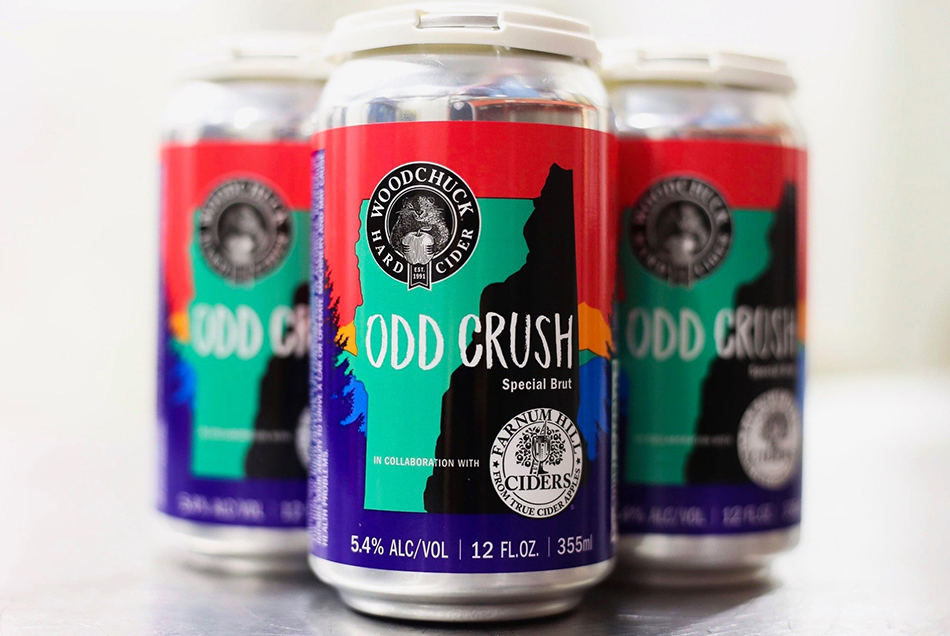 "Odd Crush" - Seen Any Near You?
Update on Odd Crush – So the special collaboration released just a few months ago went out pretty well. We're trying to find out where it might still be available, so far no luck. In case you run across Odd Crush, here's the description: http://www.woodchuck.com/cider/odd-crush/ ! And let us know where you spotted it!
Back in the 1990's Farnum Hill began making and promoting small-scale hand-made orchard ciders in local markets while Woodchuck was making novel, variously flavored "six-pack" ciders, sold nationwide. From New Hampshire and Vermont, this odd duo showed the way toward today's wildly diverse, country-wide American cider industry! Now, twenty-odd years on, we're looking around and saluting each other in this special cider, which brings together our different styles, different techniques, and our different apples in a deliciously "Odd Crush."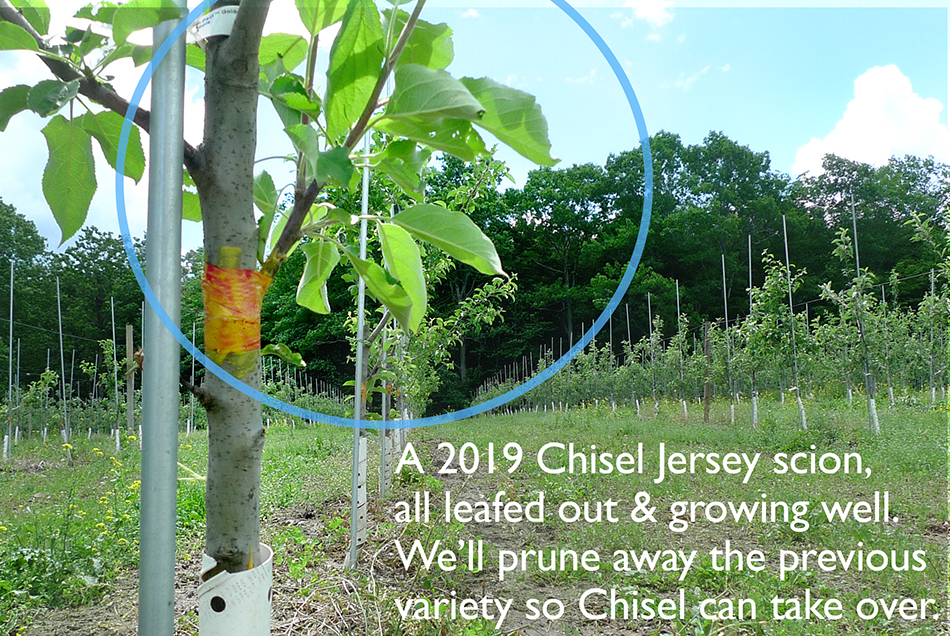 Apple Tree Switcheroo
These photos show apple trees being changed from one kind of apple to another. See the little leafy stub sticking out from the main stem of this tree? That stub will become the whole new top of the tree! Here, we're working this switcheroo on about 1200 trees, through the magic of grafting.