We're open in the retail stand for three extra days... As of Monday 11/4 we'll move the retail over to its cozy late-fall setup.
Call 603-448-1511 about hours (or any other info.)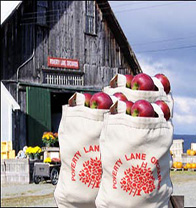 FALL FARM STAND, NEW OCTOBER HOURS
(TASTE & BUY A WIDE RANGE OF READY-PICKED APPLES, ALSO SWEET CIDER, FARNUM HILL CIDER, LOCAL HONEY, LOCAL SYRUP, FREE TASTING OF EVERYTHING WE PRODUCE, PEACE & QUIET, LOTS MORE.)
We're open seven days a week through November 3rd. After that we'll set up our usual post-season retail in one of the barns to keep you supplied with super-excellent apples until further notice. Call!
Hours: Weekdays 9-5, Sat-Sun 10-5
CALL AHEAD WITH QUESTIONS! 603/448-1511 Web info lags behind the fast-moving harvest.